Whether or not we are in the midst of a tech IPO bubble right now, the first three months of the year have been the busiest for initial public offerings since 2011. During the first quarter, IPOs raising $10.6 billion hit the market, up 39% from the same period last year.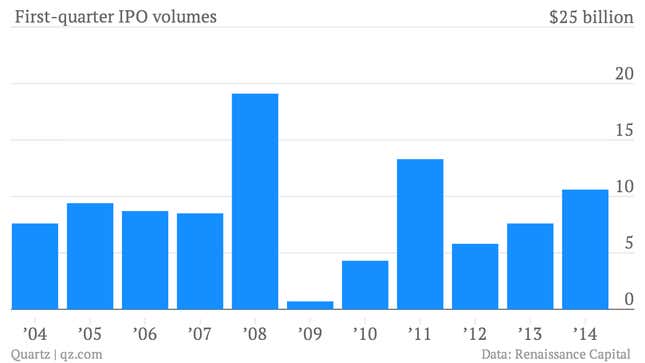 April is looking strong too, with the dollar value of deals already more than double last April's total. And there are still eight more business days left in the month. On Thursday, China's Twitter-like social company Weibo began trading. Weibo's shares ultimately settled at $20.64, up 19% from its $17 IPO price.
The Chinese social network had plenty of company, with four IPOs on Thursday, in a week with 10 IPOs in all. Companies may have been in a rush to get their deals out of the gate ahead of the Easter holiday. (Stock markets are closed today in observance of Good Friday and Easter this weekend.) Those other Thursday offerings included the owner of  Travelocity, the travel software company Sabre Corporation.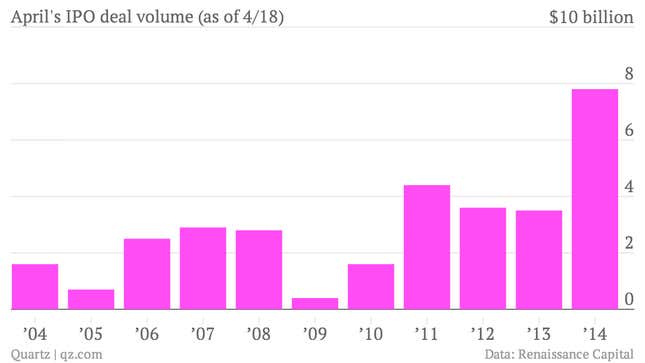 With such a large volume of deals hitting the market this week, its no wonder that some of them have met less-than-voracious investor appetites. It remains to be seen whether that so-called IPO bubble is bursting or this was simply a case of oversupply.