Since 1927, Time Magazine has selected as its "Person of the Year" an individual who the magazine's editors felt has "done the most to influence the events of the year." Past winners have included Albert Einsten, Adolf Hitler, and Elvis Presley.
This year, India's elections are figuring prominently in the magazine's corresponding "readers poll" of the world's 100 most influential people—a sign of the growing influence of India's internet users, a group projected to be 243 million strong by June.
The poll asks readers to choose "people who you think have changed the world this past year, for better or worse," by asking whether or not an individual should be included on the Time 100 list. At 9:30pm EDT on April 20, Arvind Kejriwal, the Aam Aadmi Party chief, topped the list with more than 10% of all "yes" votes.
Narendra Modi, the Bharatiya Janata Party candidate, ranked number three on "yes" votes, behind Kejriwal and singer Katy Perry. But Modi also had the most "no" votes of any nominee, well ahead of Canadian singer Justin Bieber, who is the subject of an online petition asking he be deported from the US: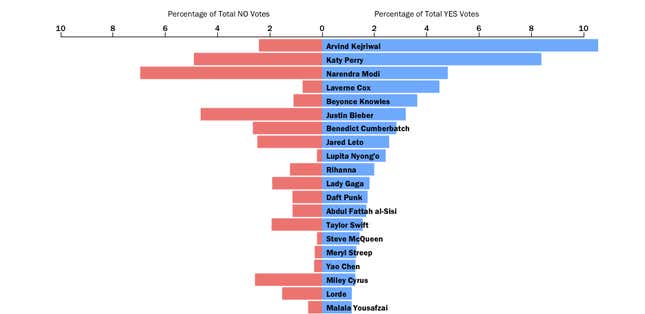 Time Magazine's readers poll has absolutely no correlation whatsoever with how India's elections may turn out (or much else, really)—only a small percentage of India's voters are the English-speaking internet users likely to vote in the Time Magazine poll, and many of the people voting in the poll aren't likely to be eligible to vote in the election. Still, its notable that over 118,000 people had cast a vote either for or against Modi by the evening of April 20, and over 165,000 for Kejriwal—versus just over 17,000 for the immensely popular Pope Francis.
Modi fans and foes alike, as well as everyone else, still have plenty of time to get their votes in—this year's contest closes at 11:59pm EDT on April 22.