Global cognac-makers' sales in China are suffering, and not just because of the country's ongoing government austerity campaign. More worrying for the likes of Hennessy, Rémy Martin, and Martell is that Chinese authorities are taking aim at the country's "yellow" entertainment sector—karaoke clubs, bath houses, and hostess bars where wealthy businessmen often entertain, and where prostitution runs rampant.
China is the world's second largest market for the brandy variety made in a small wine-growing region in central France. When the spirit became popular in the US in the 1990s, it was boosted by many tributes in American hip hop (paywall), but in China, it has become the drink of the middle-aged wealthy and elite. Bottles costing up to $3,000 have been a favorite gift for colleagues and contacts around Chinese New Year, as well as the tipple of choice during after-hour business dealings at nightclubs and other evening haunts.
Because of Chinese demand, the Asia Pacific region now accounts for an estimated quarter of the world's cognac consumption, almost double what it was in 2005. In 2012, Chinese cognac sales hit a record of 27 million liters, according to Euromonitor.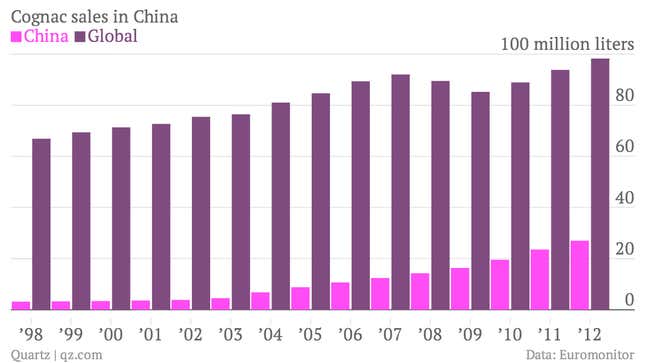 Now, cognac faces pressure from China's latest "anti-vice" campaign (paywall), targeting prostitution. In February, Chinese authorities launched a sweep of brothels across Dongguan, a southern metropolis known for its thriving erotic entertainment sector. In addition to boasting the "sex capital" of China, southern China is also the region with the country's highest cognac consumption, according to the research consultancy Bernstein. Since February, over 2,400 hostess bars and the private-room karaoke clubs notorious for prostitution and known as "KTV houses" have been closed.
Rémy Cointreau, maker of Rémy Martin, warned this week that profits would fall as much as 40% because of declining sales in China and said it will reduce inventory there. LVMH's Hennessy cognac volumes were down by almost 30% in the first quarter. And in a recent presentation, Pernod Ricard, maker of Martell cognac, said it has seen double-digit declines in cognac sale volumes in China, citing "anti-extravaganza and anti-corruption campaigns" as well as "recent action on KTVs." Pernod derives up to 45% of its China sales (pdf, p. 25) through KTV clubs and bars.
After a peak in 2004, growth in cognac sales in China had already flattened over the last few years: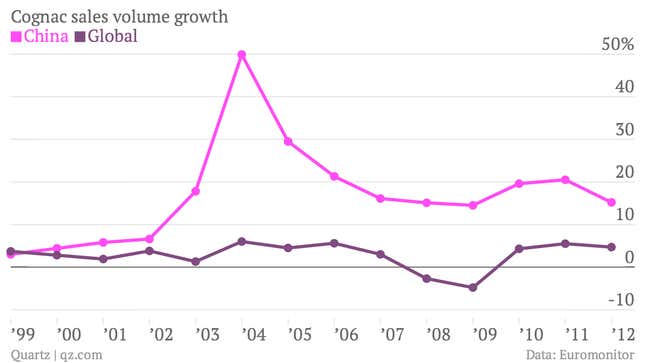 One comfort for retailers is that in the past these so-called crackdowns have never really eradicated the country's commercial sex sector. Observers of the industry say local governments launch the periodic sweeps for fines or to make a public relations statement, but in reality they are not trying to shut down the sector because they rely on its fines for revenue.
When all these karaoke clubs and hostess bars reopen for business, however, some in the cognac industry worry that tastes will have changed. Melissa Earlam, an analyst at UBS, told the Wall Street Journal (paywall), "Clearly there is a debate going on about whether the ultra-high-end cognac category in China will ever recover to previous highs."