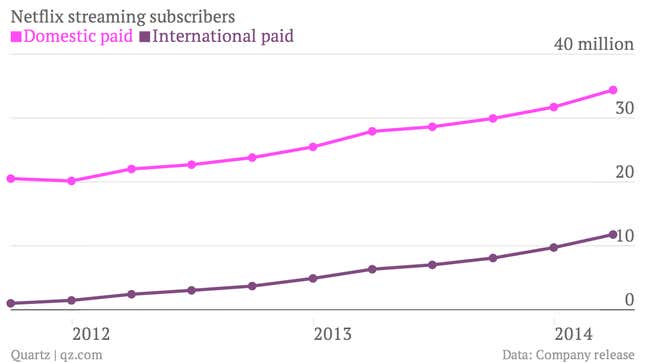 We all knew this was coming. Netflix just confirmed (pdf) it is raising prices for new users later this quarter by "one or two dollars a month," depending on the country. Existing users will pay the same price for a "generous time period," the online video company said "These changes will enable us to acquire more content and deliver an even better streaming experience," Shares in Netflix have soared by about 7% in after-hours trading. Analysts have been tipping the company to either raise prices or crack down on freeloaders—people using friends' accounts—for awhile now. That's largely because producing original video content like it has been doing is so expensive.
Netflix also reported that it added 2.25 million subscribers in the US during the first quarter, which featured unusually cold weather in the US, and the release of the much-anticipated second season of its House of Cards series. That lifted its US paying subscriber base by 7.1% to 35.67 million, in line with its previously issued guidance.
But the real growth is in its international subscriber base, which rose by 1.75 million paying users to 11.76 million, an increase of 18%. In other words, Netflix's growth overseas is more than twice as fast in percentage terms as its growth inside the US. By next quarter, it expects to have 12.81 million paying subscribers abroad, which will be more than a quarter of its forecast total user base by then, of 49.81 million.