Novartis, GlaxoSmithKline, and Eli Lilly just announced a complicated four-part deal worth about $28.5 billion. When the dust settles, the three companies will look very different from before and, crucially, from each other.
Big Pharma is under assault from generic drug makers, legal challenges to patents on blockbuster drugs, and the rise of low-cost drug makers based in emerging markets. To survive, the biggest players are building dominant positions in narrower business lines or pursuing drugs that target rare diseases. Diversification is out, and specialization is in.
In a sign of the times, all of the companies' shareholders appear to like the deal—Novartis and GSK's shares jumped on the news early in Europe's trading day. Eli Lilly's New York-listed shares aren't open for trading yet, but a small lots traded in Frankfurt suggest that it will also see gains today.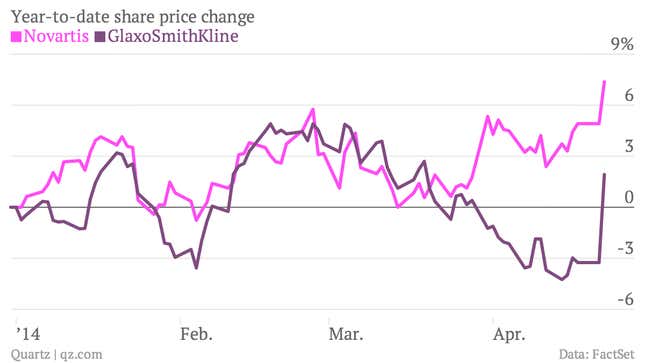 Here's how the deal will change Novartis, GSK, and Eli Lilly:
Oncology to Novartis
Novartis, already a leader in cancer drugs, will purchase GSK's oncology business for $14.5 billion in cash upfront and another $1.5 billion if unstated goals are met.
Novartis's cancer business still lags Swiss pharma company Roche, which dominates cancer drug sales and produces the top three drugs by sales. But Novartis's Gleevec was the fourth best-selling cancer drug in 2012, with $4.7 billion in sales, and the company owns two other top 20 cancer drugs, with $2.3 billion in combined annual sales.
GSK has spent millions on cancer drug research in recent years, part of a diversification strategy, and has several promising drugs in the pipeline. But with no best-sellers to date, it's hard to say how the sale of this unit will affect its revenues. Novartis is essentially buying years of R&D into cancer drugs, while GSK is monetizing its work to date and getting out of the business.
Vaccines to GSK
GSK is simultaneously buying Novartis's vaccine portfolio (excluding its flu vaccine) for $5.3 billion in cash, plus another $1.8 billion in later payments if terms are met. Vaccines make up just a small percentage of global drug sales, because prices are low compared to other drugs, but sales are expected to grow by at least 10% a year for the next several years. The vaccine business is already controlled by a handful of pharma companies, with GSK the largest, as this World Health Organization graph shows: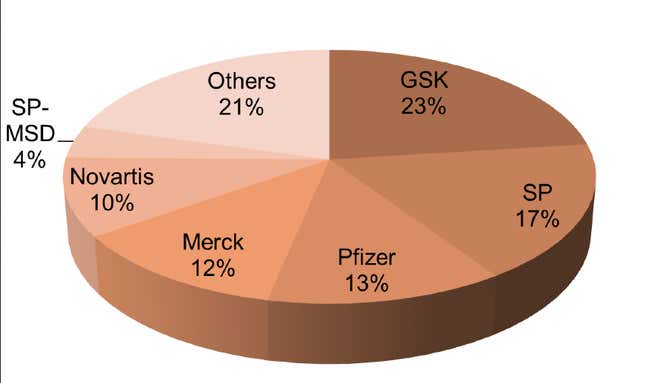 The deal will add Novartis's meningitis products to GSK's portfolio, among others. It will also make GSK by far the dominant vaccine maker in the world with a third of the market. Novartis is quitting the business entirely, with its flu-vaccine unit to be shed in a separate sale, the company says.
Lilly becomes an animal drug powerhouse
Eli Lilly's role in the deal is the all-cash purchase of Novartis's animal health unit, for $5.4 billion. The business includes everything from pet heartworm pills to farm animal vaccines. As a result of the deal, Eli Lilly will become the world's second-largest animal drug company behind Pfizer spin-off Zoetis, jumping over Merck and Merial. The Novartis unit has 3,000 employees and revenues of $1.1 billion.
GSK and Novartis team up for over-the-counter products
Finally, GSK and Novartis will combine their "consumer healthcare businesses," which means over-the-counter drugs, vitamins, and other medicines like Novartis's Excedrin and Theraflu into a joint venture, with GSK controlling 63.5% of the new company's shares. The group will be the world leader in over-the-counter drugs, according to GSK, with revenues of nearly $11 billion a year.