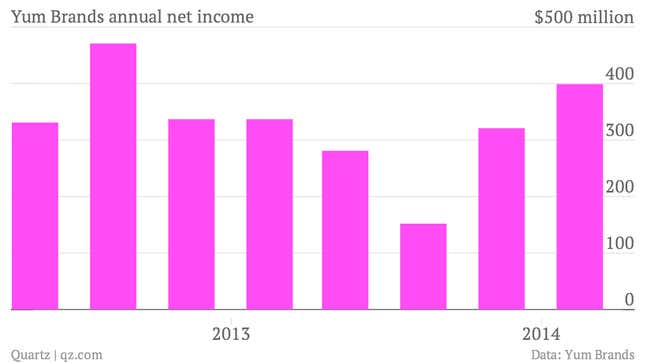 The numbers: Better. Yum Brands, which owns KFC, Taco Bell and Pizza Hut, reported profits of $399 million during the first quarter. That's up 18% from the same period a year ago. The results slightly undershot analyst expectations, but the report was an improvement from last year, when the company was plagued by food safety scandals and fears over avian flu in China. Yum shares rose in after hours trading.
The takeaway: Sales in China, Yum's largest sales division, have picked up but only slightly: same-store sales grew 9%, just under expectations for 9.4% over a period that includes a peak season for the casual dining chains, Chinese New Year. One worry for Yum is that the days of heady growth in China are over. The company faces increased competition from local and other foreign players.
What's interesting: Yum needs its new breakfast offerings at Taco Bell—an attempt to eat into the US breakfast market—to make up for slower sales elsewhere. Same-store sales at Taco Bell restaurants in the US fell 1% for the quarter, along with drops of 3% at KFC and 5% at Pizza Hut. It remains to be seen whether mocking Ronald McDonald and offering a Waffle Taco will help; the menu premiered near the end of the first quarter.