Even in evangelism, America's flair for mass production is irrepressible. The US has more than 1,600 megachurches—meaning those with more than 2,000 weekly attendees—the most in the world. Some are little more than a venue and a live telecom feed of star preachers like Rick Warren, whose Saddleback chain of ministries is perhaps the world's most recognized megachurch brand. (Its motto is "one family, many locations.")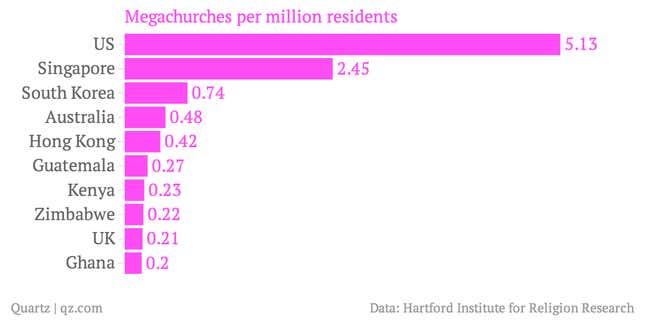 Warren is exporting his model of scalable services; the Saddleback franchise can now be found in Manila, Hong Kong, Buenos Aires and Berlin, reports Marketplace, with other planned for Bangalore, Mexico City, Johannesburg, Moscow, Accra and other big cities.
Like Warren, another American megachurch baron, Joel Osteen—his Lakewood Church had to buy the former arena of the Houston Rockets basketball team to seat its 43,500 attendees—televises his ministry around the US and to tens of millions of people in Australia, Europe and India.
The US certainly isn't the only country to have found that religion scales. Australian megachurch entrepreneur Brian Houston already has 11 megachurches worldwide; his New York franchise boasts visits from Justin Bieber and basketball star Kevin Durant. The world's biggest megachurch, Seoul's Yoido Full Gospel Church, broadcasts its services to hundreds of satellite churches across the globe, translating into a dozen languages.
And though the US might have more megachurches per capita, what about the most megachurchgoers per capita? That crown goes to Singapore; 3.1% of its 5.3 million residents attend a megachurch on a weekly basis, according to the World's Biggest Churches database.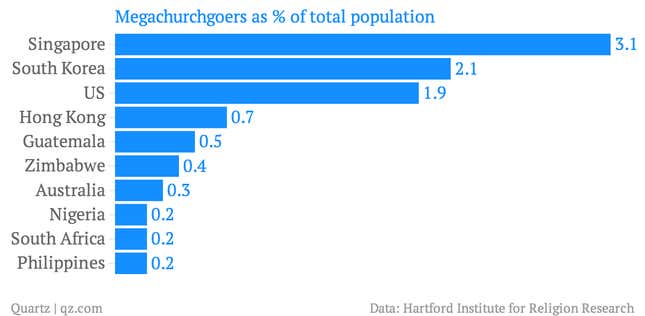 Then again, it's easier to build megachurches when you've got money, which probably explains why six of the 10 countries with lots of megachurches are advanced economies like Australia and the UK. At the same time, counting the percentage of the total population that shows up to megachurch each week may favor small countries and regions—i.e., Hong Kong and Singapore—where building a few big churches instead of scores of smaller ones makes sense.
But there's one more measure of who loves megachurches the most: Which country has the mega-est megachurches of them all? And in that, we have a decisive winner. Some 480,000 people attend South Korea's Yoido, making it the biggest megachurch in the world by a factor of six (the runner-up, Lagos' Deeper Christian Life Ministry, boasts a mere 75,000 weekly attendees). One out of every 20 residents of greater Seoul is a member.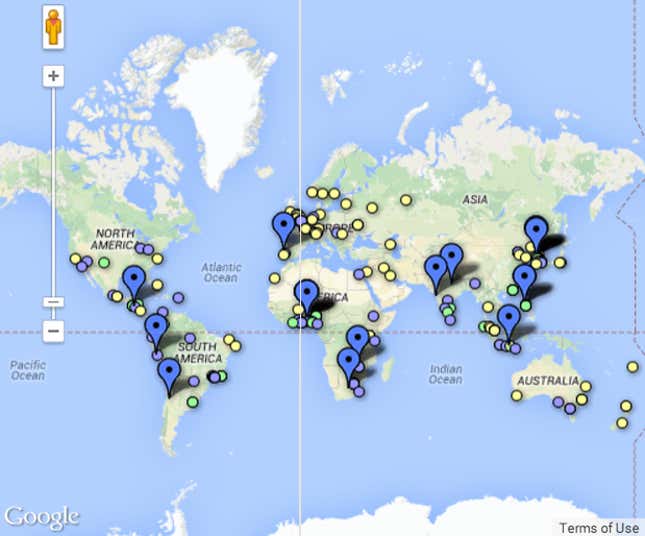 South Korea also has five of the biggest 20 megachurches in the world. Nigeria, with four in the top 20, seems to be gaining fast, as are the Philippines and India, which each boast two on the list. The US, surprisingly for the country where everything is bigger, has only one top-20 church, Osteen's Lakewood. But that might have something to do with Warren's and Osteen's push for global conquest. Like so much else mass-produced in America, the best way to keep growing is to sell elsewhere.