Hope for the best but expect the worst. That seems to be the motto for German executives, who report brisk business at the moment but fear that the good times won't last.
The closely-watched business confidence survey from the Munich-based Ifo Institute was released today. The overall confidence index beat expectations for April, as many expected a dip due to the escalating tensions in Ukraine—and the fear that Western sanctions against Russia would put a big dent in business for the many German firms that operate there. Instead, confidence rose from March, and now hovers near a three-year high: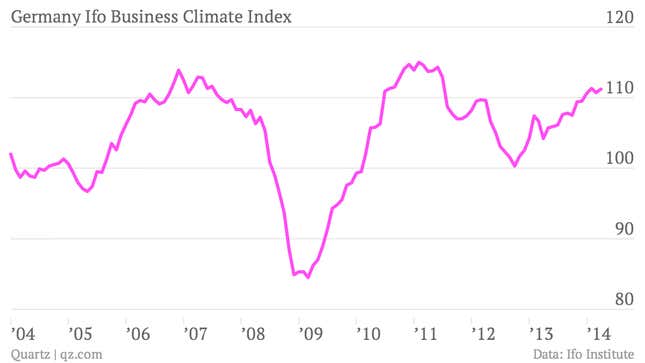 But the headline result masks less bullish details. Executives are asked to assess current business conditions as well as their expectations for the next six months. The differences between how managers feel today and how they expect to feel in the future are telling.
When you break down the components of the Ifo Institute's overall index, the effect of the crisis in Ukraine is more apparent, with the gap between current and future confidence growing wider in recent months: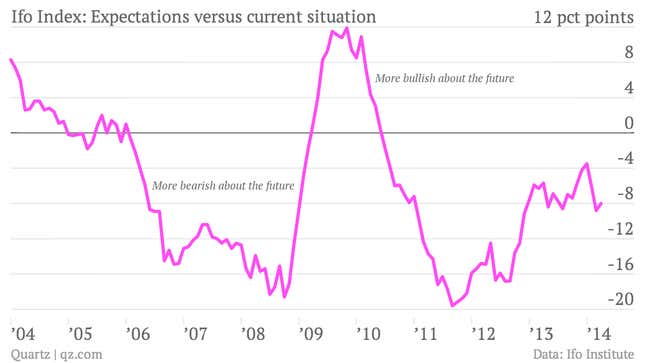 But this chart also shows that German executives are almost always less confident in the future than they are in the present. Since 2004, the index for future conditions has been lower than the one for current conditions nearly three-quarters of the time. In recent history, only during the darkest days of the global financial crisis did German managers think that conditions tomorrow would be better than today. Pessimism about the future looks like an ingrained personality trait.
This may seem strange, given that other measures of business activity have been surpassing expectations, and unemployment is low (and falling). It could be, then, that the wariness of the future is a feature instead of a bug. If disaster is always around the corner, there is a greater urgency to make the most of good times today. There is no time for complacency, nor for getting too far ahead of oneself. Could this be the key to Germany's ruthlessly efficient industrial machine?