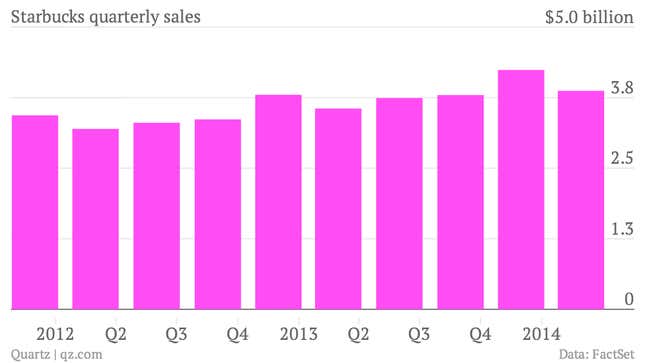 The numbers: Solid. Starbucks reported $427 million in profit during the second quarter, a 10% increase from the same period last year. Revenue was $3.87 billion in its fiscal second quarter, which was slightly below expectations of $3.96 billion. And global comparable sales increased by 6%. The coffee chain's shares were up about 1% in after-hours trading. 
The takeaway: Starbucks continues to grow steadily at home and abroad. Every segment around the world grew, including a big increase in the Asia-Pacific region, with 24% revenue growth to a total of $265.3 million. The company also opened its landmark 20,000th store. In a statement, CEO Howard Schultz emphasized the company's emerging-market growth, partnership with Oprah Winfrey (they're releasing a co-branded chai drink together later this month), the growth of tea brand Teavana, and digital payments.
What's interesting: Starbucks is at its core, a coffee company. But Schultz said during the company's earnings call that it has gotten so good at leveraging its mobile apps, mobile payments, and loyalty cards (which made up nearly one-third of its transactions) that other major retail and technology companies have asked about licensing its mobile platform. The company is evaluating these approaches, but Schultz said it could be a future source of profit.