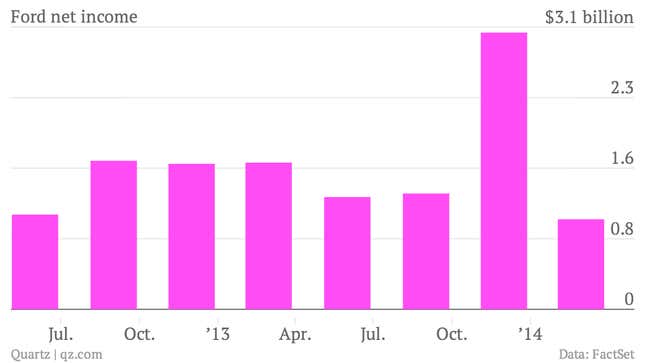 The numbers: A miss. Ford earned $1.4 billion in pre-tax profit for its first financial quarter, down $765 million from a year ago. Revenue was $35.9 billion. However, it's upbeat, affirming profit guidance between $7 and $8 billion for the year as it prepares for what CEO Alan Mulally called "our most aggressive product launch schedule in our history," with 23 new vehicles. The company's stock is down about 3% pre-market.
The takeaway: General Motors, which has had to recall millions of cars over a faulty ignition system, wasn't the only company that had to spend money on recalls this quarter. Ford said in its earnings release the decline in profit came from increased field service for older models, including safety recalls and weather-related issues, as well as South American currency effects. All together, those issues reduced profit by $900 million. The problem may continue, but likely won't come with as high a price tag in the future. Ford has had a number of recalls, though none nearly as serious as GM's ignition issue; the most recent was for corrosion caused by the use of salt on roads in cold weather states.
What's interesting: Europe has spent a long time being a massive drag on the global auto industry. North America, Asia, and Middle East & Africa made the profit, but this quarter European losses were reduced by half, while it was South America that increased losses. Also, those product launches will be expensive, so the company predicted that its operating margins will be lower this year.