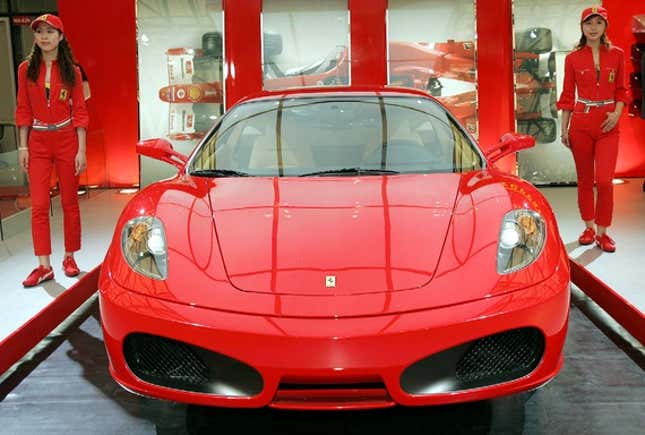 Releasing a rare bit of optimistic news in the fight against climate change, the United States Environmental Protection Agency said April 25 that automotive carbon emissions are down.
They declined nearly 7 percent on average for the 2012 model year compared with the year before, the agency said. That's more than 3 percent lower than the 2012 federal standard.
"The report reveals that consumers bought cleaner vehicles in the first year of the program than the 2012 [greenhouse gas] standard required, and that automakers are off to a good start in meeting program requirements," the EPA said in a statement.
Well, sort of.
It's not quite as straightforward as that. As part of a 16-year program to slash vehicle greenhouse emissions that began in 2012, the EPA allowed automakers to initially offset their carbon spew by accumulating and trading various credits, earned for doing things like improving the efficiency of air conditioning systems to prevent the leakage of potent greenhouse gases.
When those credits are considered, all automakers emerge winners.
But looking at the raw numbers, nine manufacturers fell short: Nissan, Volkswagen, BMW, Chrysler, Volvo, Mercedes, Suzuki, Jaguar Land Rover and Ferrari. Those companies sold a total of 4 million cars in the United States in 2012. On the plus side, the automakers in compliance with the greenhouse gas standards—including General Motors, Honda and Toyota—produced 8.3 million cars.
According to the EPA report:
It is possible, for example, for a manufacturer to routinely fall short of meeting the fleet average tailpipe emissions targets yet remain in total compliance with the program. For example, while it is fair to say that nine manufacturers were unable to meet their car and/or truck fleet average CO standards applicable in the 2012 model year, this fact in isolation has no meaning with respect to the overall compliance position of these manufacturers. All but one of these manufacturers were able to offset any resulting 2012 model year deficit through GHG reductions achieved through other means and the application of optional credits generated from those reductions.
Sure, but who's selling the greenest cars when it comes to carbon emissions?
Obviously, it's the companies making electric and plug-in electric vehicles like the Tesla Motors Model S, the Nissan Leaf, and the Chevrolet Volt. Only 36,747 such cars were sold in 2012, though. (Tidbit: Coda, the now defunct California electric automaker company, produced only 115 cars in 2012 before going belly up.)
The EPA measures greenhouse gas tailpipe emissions in terms of grams of carbon emitted per mile. The 2012 standard was 296 grams per mile. Based on their fleet average, a number of big automakers beat that target for passenger cars, including Ford (252), General Motors (272), Toyota (221) and Honda (237).
Here's a few cars to avoid if you care about the environment and don't belong to the 1 percent: Mercedes (298), Jaguar Land Rover (303) and most of all, Ferrari (494).
This post originally appeared at The Atlantic. More from our sister site:
Guns: Protection against the "growing menace of auto bandits."
It's not just Frozen: Most Disney movies are pro-gay.