The 2011 documentary, Page One: Inside the New York Times, depicts an organization in crisis, struggling to adapt to a rapidly changing digital world, shedding jobs and fighting for its survival.
Nearly three years on, some of the faces have changed (younger reporters featured in the film, such as Brian Stelter, no longer work in the famed newsroom, having moved to television.) But the company behind the "grey lady" looks like it might have finally found its feet again.
The balance sheet has been repaired: thanks to a string of asset sales and cost-cutting initiatives the company now has around $300 million in net cash on its books. The share price, while still some distance below its peak roughly a decade ago, is up about 150% over the past two years. And revenue is growing again. The company has also developed a new earnings stream—digital subscriptions—that is not only making more money than digital advertising, but is also less prone to cyclical slumps.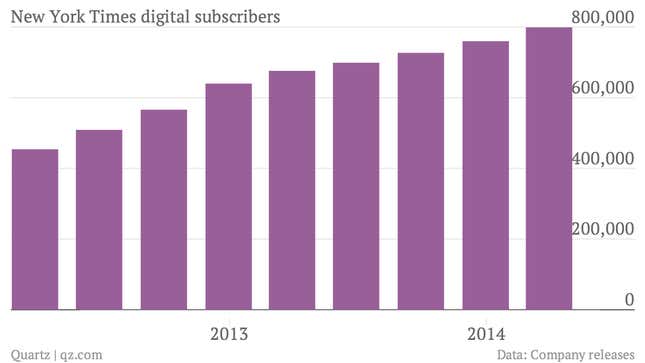 And its most recent product releases, like cut-price mobile-only subscriptions and its new data analysis website The Upshot, have been well received. "There's something in the air over at 620 Eighth Avenue, and you can feel it in the palpable confidence over NYT Now and several other products the Times is rolling out," declared Capital New York earlier this month.
This week at a (surprisingly) packed presentation to ad industry types at the Newfronts event in Manhattan's Chelsea arts district, the company outlined its ambitions to do something that, for an organization built around text for most of its 163 years, would up until recently have been unthinkable: Make more money out of video. "We are getting to the point where we think we've got an interesting story to tell in video," CEO Mark Thomson told me on the sidelines of the event.
In the ensuing presentation, the company unveiled a new hub for its video content, while a succession of its high-profile (and generally middle-aged) stars like media writer David Carr and food journalist Mark Bittman walked ad buyers through its video initiatives. Those include dramatization of legal proceedings by professional actors and "branded playlists"—essentially sponsored, native video content, created by the company on behalf of advertisers.
It's worth remembering that digital sources (advertising and subscriptions) still only account for about 20% of the company's overall revenue. So, depending upon your perspective, there's either  still a lot of pain ahead as print continues to decline, or lots of growth ahead with the digital revolution only just beginning.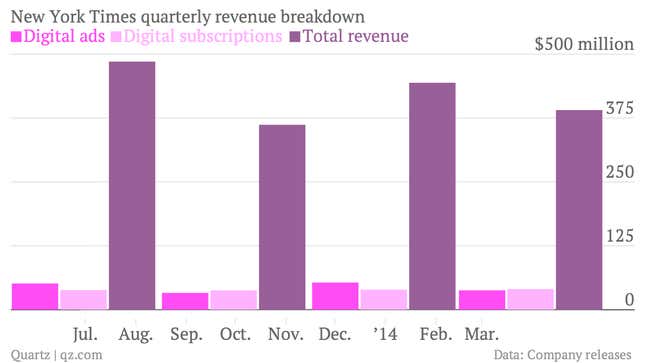 "The New York Times Company is arguably further down the path than other publishers in evolving its business model more toward the consumer," FBR Capital Markets analysts wrote in a recent note. "It's strong brand name and high-quality editorial put The Times in an advantaged position."