Krispy Kreme knows how important it is to strike while the iron is hot: Whenever the chain's stores pull out a fresh batch of doughnuts, they flip on a famous "Hot Now" light to let customers know. Celebrities from Gladys Knight to Chris Rock have declared themselves fans of these melt-in-your-mouth yeast treats, which are best devoured warm.
You might call 2021 a "Hot Now" sign on the market for initial public offerings (IPOs), and Krispy Kreme is hoping to take a bite. Earlier this month, the 84-year-old brand went public for the second time under the ticker DNUT, having delisted after it was acquired by German investment firm JAB Holding in 2016.
Krispy Kreme's IPO
Krispy Kreme raised $500 million in its IPO—short of its $640 million goal, with shares priced at $17 versus the company's expected $21-$24 range. Shares haven't risen above $20 since. Krispy Kreme's market cap now sits at $2.7 billion, up from the $1.35 billion JAB paid five years ago.
CEO Michael Tattersfield says the brand has transformed itself in that time: growing its e-commerce business, acquiring franchisees to streamline production, and emphasizing its product as a treat to be purchased in bulk rather than in single servings.
Krispy Kreme also needs the cash to pay down a hefty $1.2 billion in debt. And some analysts argue that under JAB, which is still the doughnut-maker's majority shareholder, Krispy Kreme has sacrificed profits for growth.
By positioning its treats as occasion-worthy, Krispy Kreme is hoping to differentiate itself from potential fast-food competitors like Starbucks and, of course, Dunkin Donuts. "People share our doughnuts, and they gift them as well," Tattersfield told Fox Business, noting in another interview that Krispy Kreme competes against the flower business for Mother's Day.
The ROI on dessert
Krispy Kreme's critics may be skeptical about consumers appetite for sugary doughnuts in a more health-conscious world, but for now the company is still benefitting from last year. Krispy Kreme sales hit an all-time high during the pandemic, bringing in net revenue of $1.1 billion—though it posted a net loss of $64.3 million in fiscal year 2020.
In its IPO prospectus, Krispy Kreme claimed the "indulgence foods" category is practically recession-proof. According to data from Euromonitor, the category grew by about 4% during both the Great Recession and the Covid-19 pandemic.
So why does our appetite for sweets go up when our fortunes fall? In 2010, an executive at food service consultancy firm Technomic opined that demand for dessert had remained strong during the financial crisis because it "can provide comfort when people are depressed and it can be used to celebrate and feel good about something." Whether you got into baking during lockdowns or stocked up on ice cream, it's a sentiment to which a lot of us can relate.
---
A brief history of Krispy Kreme
1937: Vernon Rudolph founds Krispy Kreme in Winston-Salem, North Carolina.
1950s: Krispy Kreme stores introduce "doughnut theaters," windows where customers can watch the treats get made.
1976: Chicago's Beatrice Foods buys Krispy Kreme after Rudolph's death
1980: A store in Chattanooga, Tennessee, pioneers the system of alerting customers when doughnuts are fresh out of the oven.
1982: A group of franchisees purchase Krispy Kreme from Beatrice in a leveraged buyout.
2000: The company goes public for the first time, opening at $8 a share and rising to four times that value in just three years.
2001: Krispy Kreme opens its first store outside of the US in Toronto, Canada.
2004: MarketWatch dubs Krispy Kreme's then-chief Scott Livengood the worst CEO in America as the SEC opens an inquiry into the company's accounting practices that ultimately identifies $25.6 million in accounting errors..
2009: Krispy Kreme and the SEC settle the investigation, with three former executives paying a collective $150,000 in fines and $632,909 in "ill-gotten gains and interest."
2016: JAB Holdings purchases Krispy Kreme for $1.35 billion and takes the company private.
2018: Krispy Kreme pays $139.5 million for a majority stake in Insomnia Cookies, known for its student- and stoner-friendly promise of delivering warm cookies late into the night.
2021: Krispy Kreme takes another crack at going public, this time opening at $17 a share.
---
Who owns Krispy Kreme?
Post-IPO, JAB Holding owns about 38% of Krispy Kreme's shares. Its breakfast-heavy portfolio also includes Keurig coffee pods, Peet's Coffee, Pret a Manger, and Einstein Bros. Bagels.
The German billionaire family that controls JAB has a dark past. During World War II, the Reimann family was headed by avowed Nazis: Albert Reimann Jr. and Albert Reimann Sr. The father and son, who at the time ran JAB Holding's predecessor, industrial chemicals firm Benckiser, used and abused forced laborers during the war.
The family legacy is complicated by the fact that Albert Reimann Jr. ultimately had children with Emilie Landecker—a clerk at Benckiser whose Jewish father was murdered in a concentration camp. Those children are now the heirs to the Reimann fortune. Since learning of their father's Nazi past a few years ago, they have taken steps to fund projects that benefit Holocaust survivors, former forced laborers, and their families.
---
How many doughnuts does Krispy Kreme sell?
1.3 billion: Krispy Kreme doughnuts sold in fiscal year 2020
75%: Krispy Kreme doughnuts sold by the dozen or half-dozen
64%: The Original Glazed flavor's share of overall Krispy Kreme doughnut sales in 2020
47: Types of doughnuts listed on Krispy Kreme's US website
30: Number of countries where Krispy Kreme treats are sold. (The company now has its eye on China, Brazil, and parts of western Europe.)
⅓: Share of Krispy Kreme sales that come from outside North America
64%: Share of the company's US doughnut sales made through drive-thrus in 2020
< 3: Annual visits by the average Krispy Kreme customer
---
Krispy Kreme's secret ingredient
Krispy Kreme keeps the recipe for its cloud-like Original Glazed doughnuts under lock and key—but some suspect the secret ingredient may be potatoes. According to sleuthing by founder Vernon Rudolph's son, Carver Rudolph, and a food historian, the original recipe that Vernon used "consisted of a cream (the eponymous "Kreme") of fluffed egg whites, mashed potatoes, sugar, shortening and skim milk that was chilled and mixed with flour and then fried and covered in glaze."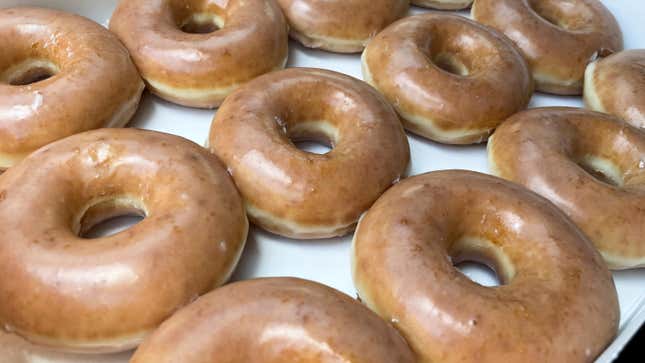 ---
Pop quiz
Can you match the special-edition doughnut to its host country? (Answers at the end.)
---
Keep learning
---
Answer 🔑 :  Cheetos + South Korea | salted egg + Thailand | cappuccino-filled + Russia | fairy bread + Australia | Biscoff + Ireland and the UK | pumpkin spice + US.
Correction: An earlier version of this post said that JAB still owned 78% of Krispy Kreme after the IPO. JAB distributed shares to investors post-IPO, so its ownership stake is now about 38%.