More than 50% of the populations of Australia, the UK, Sweden, Norway, Saudi Arabia and UAE use smartphones, according to Google. The US, New Zealand, Denmark, Ireland, the Netherlands, Spain and Switzerland have surpassed 40% mobile penetration. The rest of the world is not far behind (perhaps with the exception of my 80-something-year-old grandparents). This has generated big money for Apple and Samsung, which together boast about half of the smartphone market share.
Despite this rapid growth, analysts on Samsung and Apple earnings calls this week repeatedly expressed concern that those companies' profit margins are falling as they face new competition and must spend more to make money.
Key to those shrinking profits? Smartphones. "I'm expecting, everybody is expecting, that you know starting [next year the] smartphone market growth rate is going to be deteriorating and there should be market pressure on every smartphone maker," said Young Park of Yoori Investment & Securities.
There are three sides to this story:
Production costs. Financial headlines have blasted news about supply-chain problems for Apple, reporting on the myriad problems the company has had meeting first-day demand for new products like the iPhone 5. Regardless of what these do to the stock price, ultimately these problems result in Apple paying more money to ramp up production in a short time frame.
That said, these costs do decline over time. Just like PCs, parts that cost $100 initially end up selling for $2 as technology improves and competition among suppliers intensifies. So the increasing cost of Apple's per-unit iPhone parts, for example, doesn't tell the whole story.
Marketing. That said, there are other huge costs associated with launching new products. "Higher marketing expenditures in the peak season and anticipated aggressive sales expansion of new models by other players in the market, will bring pressure to the profitability," Samsung executives note in their earnings call, particularly pointing out that higher costs are associated with "premium products" like the top-of-the-line Samsung Galaxy 3. Apple makes similar comments about its iPhone 5. As the two tech giants and a handful of other players duke it out for market dominance, more and more money will need to be spent to get consumers to pay attention to new releases.
Software. However, as smartphones become more ubiquitous, companies are spending more and more money to develop or acquire improved software. "Maybe in the past it was enough to have a brighter screen or faster RAM," explains Gartner analyst Carolina Milanesi. "[But now] we're getting into a model that is very close to the PC model…You are more and more within an ecosystem so differentiating is harder."
In the beginning PC manufacturers battled for the biggest hard drive or the most compact tower, but now the biggest battles are about operating systems and functionality. PC developers either remained dependent upon expensive software partnerships with Google, or went off to develop vast R&D teams like Apple.
But while smartphone manufacturers are paying just about the same price for new product hardware, they've tried to differentiate themselves with snappier hard drives and better app capabilities. The latest iPhone and Samsung Galaxy have continued to include swankier hardware—nicer cameras, bigger screens, and faster processors—but the total price of the device hasn't really changed significantly. Experts have estimated that the components of the new iPhone 5 cost about $200, but that's not dramatically different from the iPhone 4S—whose parts initially cost about $190. iPhone 4 parts cost $187.50 when it was first released.
Instead, recent hype has focused on smartphone operating systems and app capabilities—Android vs. Windows vs. Apple—rather than the technical specifications of a device. Samsung, HTC, and others have inked partnerships with Google. Apple has expanded its R&D team. Even Nokia has made a risky gamble to develop a niche operating system that targets users on expensive prepaid data plans. "These things cost money," Milanesi points out.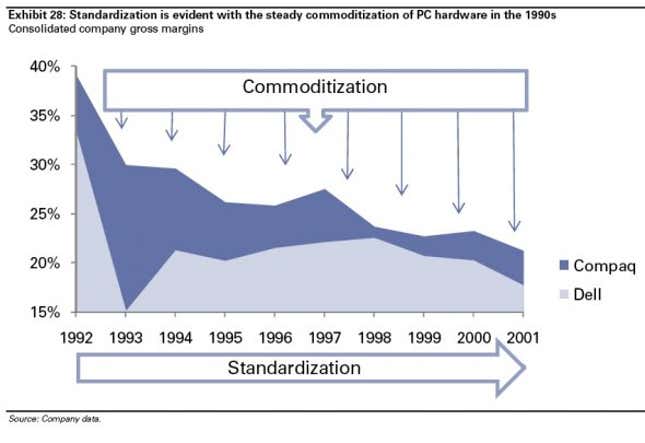 Admittedly, smartphones are not PCs. "Brand and design are much more important [in smartphones] because it is such a personal thing. It's a part of who you are," says Milanesi. This suggests that phones are like any accessory; they need to be replaced.
Replacement. But they may not need to be replaced rapidly enough. AT&T chief executive Ralph de la Vega says the telecom is beginning to see customers take longer to upgrade their phones. "We do see some customers that don't want to go through the upgrade process, and they're very happy with their devices. It's a smaller number than you would think, but we're beginning to see a trend with some customers that they're just as happy to keep the devices. If you look at some of the latest changes, maybe they don't perceive them as being so significant that they need to upgrade and go through that process," de la Vega says.
Clearly, a significant hardware innovation could buck this trend. Should a dramatic increase in processing power allow a phone to take the place of a computer, it's likely that high-end smartphone designers could demand far higher prices from consumers—and see a rebound in demand and interest. Until then, Samsung and Apple—or any other smartphone manufacturer—should look for new ways to increase their profits.