Citigroup will pay a $2 million fine to Massachusetts after admitting that a junior analyst at the firm leaked information about Facebook's IPO to reporters at AOL's technology blog TechCrunch. The junior Citigroup employee and his well known boss, technology analyst Mark Mahaney, have been fired.
Court documents filed today spell out how the junior analyst, who has been separately identified as Eric Jacobs, used his @citi.com email account to email two TechCrunch staffers an attachment—"Facebook One Pager.doc"—that regulators say included non-public information about Facebook's public offering, for which Citi was an underwriter. It's another embarrassing coda to the botched IPO.
"Thought you guys might like to see how the street is thinking about it (and our estimates)," Jacobs wrote in an email on May 2, 2012. The court documents don't identify the recipients but include enough biographical details to make it clear they were Josh Constine and Kim-Mai Cutler, who cover social media and gaming for TechCrunch.
Here's how the attachment is described by the Massachusetts securities regulator: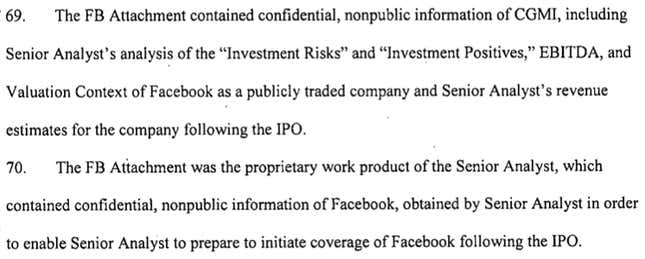 Citi's Jacobs and TechCrunch's Constine went to college together at Stanford, according to the court documents, in an interesting twist on the old boys' network of Wall Street. Cutler is also friends with Jacobs. Time was, inside information slid across the bar at the Harvard Club; now, it barely has to leave the quad at Stanford. Business Insider dug up this Facebook photo of the pair—Constine on the left and Jacobs on the right (and an unrelated person in the middle, his face blurred by us):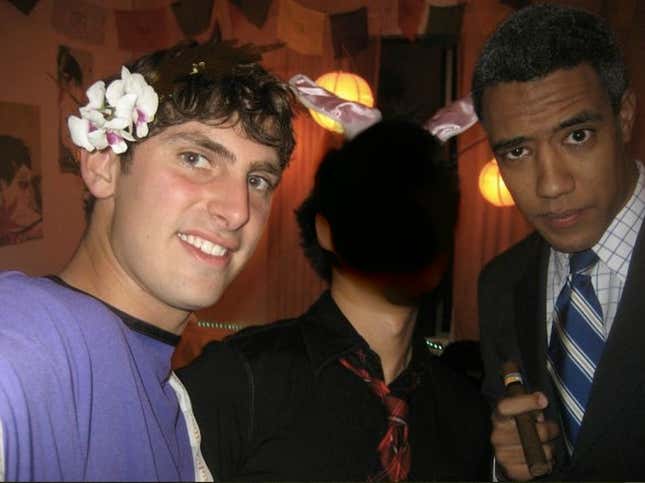 Constine and and Cutler seem to have acted as any reporters would when a private document about this year's most anticipated IPO landed in their inboxes. "There's no way  I can publish this doc from an anonymous source, right?" asked Constine, to which Cutler replied, "My boss would eat me alive."
The very next day, Constine published a big scoop on TechCrunch that began, "We are hearing from bankers underwriting Facebook's initial public offering, that it will IPO at a $70 billion to $90 billion valuation, or $27-$35 a share." The court documents say the attachment that Jacobs sent to Constine included "valuation context" for Facebook. The TechCrunch story was among the first to suggest that Facebook might go public for less than its rumored $100 billion valuation.