Yum Brands, the global fast food giant that runs Taco Bell, Pizza Hut, and KFC announced today that its CEO of 15 years David Novak will be stepping down in favor of current Taco Bell CEO Greg Creed on Jan 1.
Taco Bell, which is almost entirely a US operation, isn't the biggest part of the company's business. The taco giant ranks behind KFC, and is dwarfed by Yum's Chinese operations. What's more, Taco Bell actually saw same-store sales decline in the first quarter, though predictions for the rest of the year are upbeat.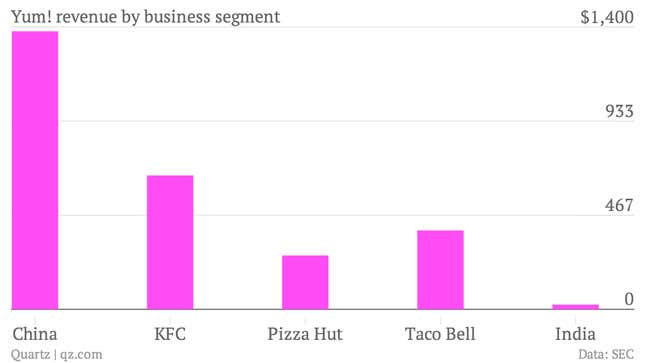 Taco Bell's physical presence is also the smallest of the three chains. There are 6,060 Taco Bells, compared to 18,847 KFCs and 15,011 Pizza Huts.
But Creed—who joined Yum from consumer products company Unilever in 1994—was chosen to lead the company over other company-wide leaders. Why?
What's distinguished Taco Bell more than its performance or size is that it's the Yum Brands restaurant that has changed the most in recent years. Under Creed's leadership, the company completely revamped its marketing, introduced the higher-end cantina menu, the extremely popular Doritos Locos taco, and most recently, breakfast.
The pace of change at the company's other subsidiaries has been, by comparison, sluggish.
That's not to say that business success wasn't a part of it. Taco Bell has increased revenue substantially during Creed's time in charge. (By itself, the Doritos Locos Taco has accounted for more than a billion dollars in sales.)
The ability to successfully change a company is rare and it likely helped Creed get the top job at Yum. Now he'll have to show that he can bring the same inventive approach to the rest of the company, while simultaneously solving broader issues, including the ongoing effort to recover from quality-control issues in the essential Chinese market.