At the end of a brutal road show, WH Group's top executives and lead bankers met April 22 at New York's Four Seasons restaurant, to discuss what to do about the Chinese pork giant's $6 billion IPO.
Two weeks of speaking to US fund managers had made one thing clear—investors were completely unwilling to pay the rich price for company's stock that WH Group's management sought. "We told them, this is not going to work," one of the company's bankers told Quartz. WH Group first slashed the size of the deal, but not the price, then cancelled it altogether.
Overseas investors returned to Chinese IPOs in late 2013, after mostly shunning them for years after a spate of accounting scandals and de-listings. But that brief romance may be over, bankers and executives say, as bad economic news steadily leaks out of China, amid a seemingly unending government investigation into corporate corruption.
"In the short term, it is difficult to be optimistic about Chinese IPOs," said the head of equity capital markets for a Hong Kong-based broker. Like others in this article, he spoke on the condition of anonymity to avoid alienating his clients. Right now, "there is no catalyst for people to turn positive," he said. At some point, Chinese stocks will seem cheap, and investors will come back, he said, but "whether it's this summer or not, who can say."
Stocks that are already listed are suffering too. After hitting a 52-week high in early December, the MSCI China stock index, which includes mainland companies that trade in Hong Kong and in foreign currencies in China has fallen about 12%.
Sentiment is turning as more than $10 billion in Chinese IPOs are headed to New York and Hong Kong, not counting the massive listing of e-commerce giant Alibaba, which is expected to file a prospectus in the US as soon as this week. Here's the top ten: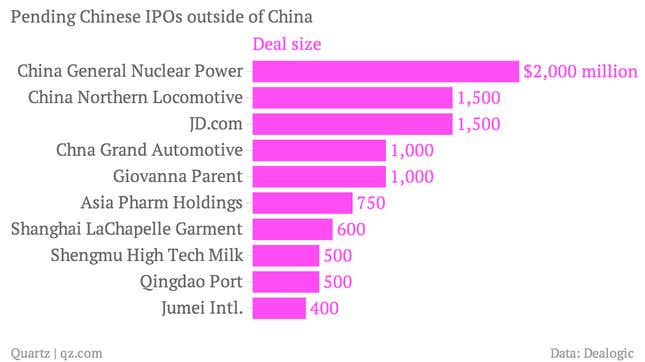 Whether all these deals will get done, and at what price, is worrying bankers in Hong Kong and New York. "There's a huge amount of skepticism" toward Chinese companies in both markets, said the head of Asia-Pacific capital markets for a major US bank.
That's not to say the news has been all bad for Chinese companies heading overseas. So far this year, they have raised almost $3.9 billion in foreign IPOs, compared to just $817 million at this time in 2013, according to Dealogic: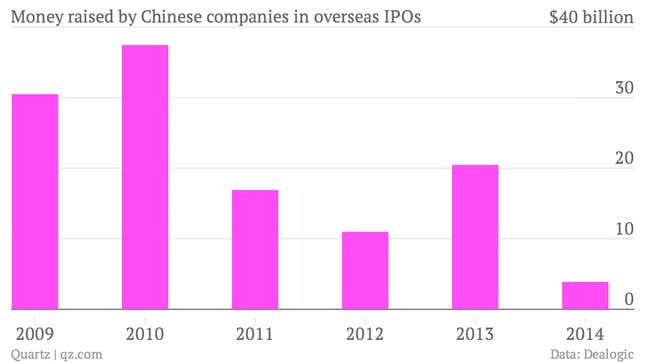 WH Group's listing had several special factors that may have dragged it down, including the unprecedented number of banks on the deal (29), and a management team that refused to listen to potential investors and its own huge group of advisers.
The latter is common among Chinese companies doing their first fund-raising overseas, bankers say, which could spell more heartbreak in the short term. "There is an astonishing self-confidence" that the market can be manipulated among Chinese companies looking to go public overseas, said one banker involved in the WH Group deal who has worked with Chinese IPOs for more than a decade. "There is a view that capitalism can be negotiated."
Recent IPOs are proving that view wrong. China's Weibo went public in New York in April with a deal that valued the company at half of original estimates, thanks to lackluster demand, and amid a recent glut of Chinese tech IPOs. After an initial jump the stock is trading below its IPO price: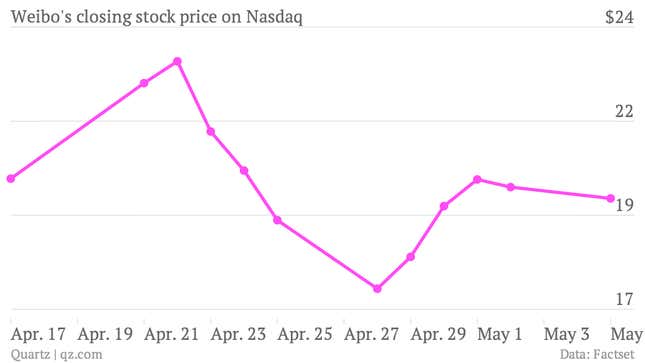 On May 5, during a Beijing conference, Weibo's chief executive Gaofei Wang acknowledged the shift in sentiment with a candid bit of advice for his peers looking go public: