The electronic gizmos churned out by China's factories have long been delivered to western consumers by giant seagoing vessels filled with shipping containers or, in the case of particularly high-value products, by air.
But new rail networks that stretch across Kazakhstan, Russia, and Belarus—in essence, the Silk Road trading route that dates back millennia—let Foxconn ship products for its customers, which include Apple, Sony, and Nokia, along a 10,000 kilometer (6200 mile) land route to Europe. This journey takes about 15 days, roughly half the travel time by sea.
Freight trains from the Chinese city of Wuhan, home to a major Foxconn facility, started delivering shipping containers to the Polish city of Lodz this month. That's where the transport and logistics firm Hatrans—part of the Chinese-Polish joint venture YHF Logistics—has its hub, enabling onward travel to the rest of Europe. Related rail links also tie together the Chinese city of Zhengzhou to Hamburg in Germany, and the Chinese city of Chongqing to the German port of Duisberg: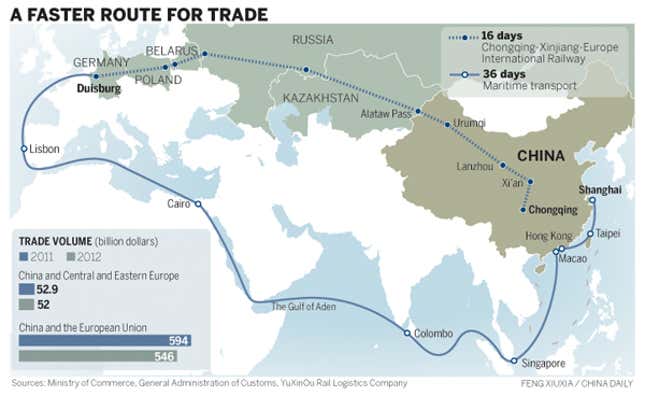 Time is money for companies shipping high-value goods from China to the West, since products trapped in transit tie up inventory and increase the risk of currency fluctuations for the seller. Rail links are still about twice as expensive as sea routes, but as manufacturers move their Chinese factories further inland, the cost differential is shrinking. Meanwhile, air freight, which Apple uses for many of its highest-value product shipments, costs about seven times more than rail shipments, according to an in-depth report by the New York Times last year.
Aside from the appeal of getting electronic gadgets to market quickly and cheaply, reviving the Silk Road will also have major geopolitical implications. As Quartz contributor Parag Khanna has explained, the new version of the trade route is constructed with iron railroad tracks, as expanded networks tie together markets from Scotland to Singapore. China in particular is keen to work with its neighbors to build these westward-bound transport links, ensuring a steady flow of exports and natural resources that avoid the circuitous sea route through the pirate-infested and US Navy-dominated Straits of Malacca.