A viral and often fatal respiratory disease in the Middle East has taken a turn for the worse and is spreading throughout the region, as well as to parts of Asia, Europe and now the United States. US officials have just confirmed that a man who fell ill after returning from Saudi Arabia about a week ago has Middle East Respiratory Syndrome (MERS). Earlier, Saudi officials reported 26 more infections of the disease, which first appeared in Saudi Arabia in 2012.
Cases of MERS surged last month by 89 new cases. The kingdom has seen a total of 371 cases and 107 deaths from the disease since it was identified two years ago. There is no cure or vaccine for MERS, which can cause pneumonia and kidney failure, but this week scientists from the US, Hong Kong and China said they discovered antibodies that can prevent the disease from infecting human cells.
What's especially worrying about MERS is its resemblance to another viral respiratory disease that turned into an epidemic and killed almost 800 people around the world in 2002 and 2003—Severe Acute Respiratory Syndrome, better known as just SARS. Although MERS appears to be spreading more slowly than SARS did, it is far more lethal. Laurie Garrett, a global health expert at the Council on Foreign Relations, said about 31% of MERS patients have died from the disease, compared with 8% of SARS cases.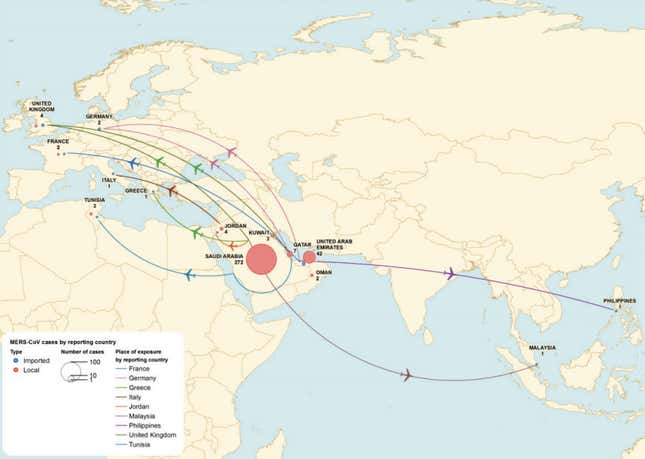 The rate of infection may pick up still. SARS, which emerged from human contact with infected civets, eventually spread like wildfire between humans, starting with health workers. Scientists are still studying the disease, but say MERS is likely the result of human contact with diseased animals—bats and camels, as well as their milk, urine and other fluids. The WHO has said that three-quarters of last month's flood of MERS infections appear to have been through human-to-human transmission, mostly in Jeddah's healthcare facilities.
So far, MERS cases have been found in about half as many countries as the 31 nations SARS reached—mostly in the Middle East, but also in parts of East Asia and Europe. The virus does not seem to have reached North or South America, but as millions of Muslim pilgrims begin descending on holy sites in Saudi Arabia between the late spring and fall to observe the hajj, health experts worry the disease could spread further.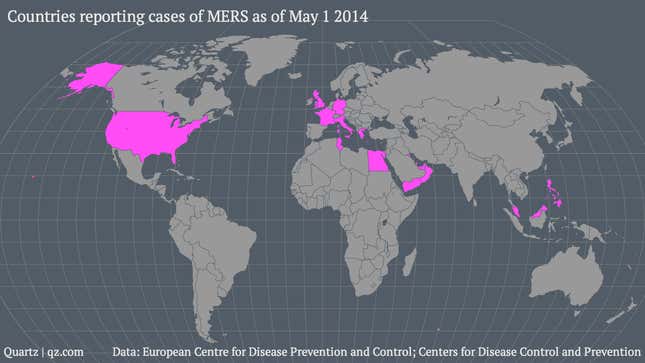 Aside from the health concerns, SARS exposed deficiencies in the official responses in China and Hong Kong. Likewise, MERS is drawing new scrutiny upon the Saudi government. Even as doctors reported a surge in deaths at the beginning of April, officials issued a statement assuring the public that there is no worry of an epidemic and discharged the country's health minister with little explanation. Some locals claim that officials are covering up cases of infection, and the reporting of infections and deaths has indeed been confusing, Garrett points out.
"There needs to be clear, honest, and timely communication between the government and its health departments and the public," the medical journal the Lancet has written in response to the crisis.