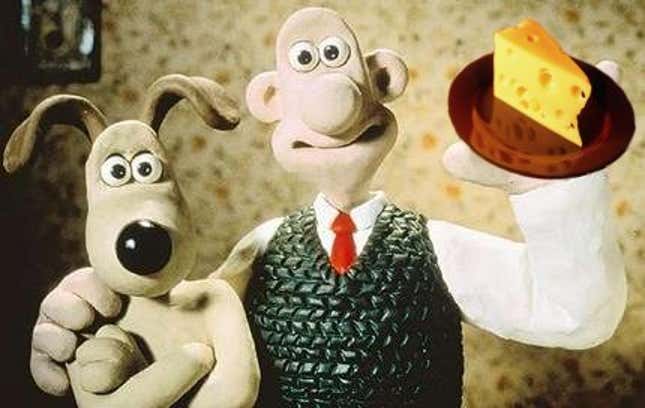 China has suspended all imports of cheese from Britain, and some UK politicians think the move smells worse than an overripe wheel of Stinking Bishop.
The ban began May 1 after inspections were carried out earlier in the year "to ensure all UK suppliers of dairy products conformed to the new Chinese Food Safety law," according to a UK dairy industry trade group. "Issues related to maintenance, air sanitisation, raw milk transport temperatures and chemical storage were cited as the reasons for the temporary ban."
According to British media outlets, China put the ban in place after some of its officials took a look at just one dairy—the visit was nominally an unofficial visit but once on-site, the Chinese officials conducted a full audit. The facility has not been named, but it reportedly wasn't even exporting any dairy products to China. In a further twist of the cheese knife, Ireland passed the Chinese audit with a clean bill of health, and received authorization to export its cheeses to China just as the UK ban went into effect.
"It seems to me this is a complete over-reaction and a disproportionate response," British MP Andrew Percy told the Mail on Sunday. "This matter needs to be resolved quickly and if it is not we should look at the possibility of some retaliatory action."
However it seems possible that cheese ban is itself a tit-for-tat response to an earlier move by the UK. On April 30, the day before British cheese exports to China were blocked, the UK adopted an EU law that bans the sale of unlicensed herbal products, in particular those used for Chinese herbal medicine.
Dairy product safety is also a sore subject in China, which is still traumatized by the tainted milk powder that caused the death of six infants and sickened thousands in 2008. China's new food safety law, which purportedly prompted the UK cheese ban, is seen by some analysts as an attempt to level the playing field between domestic milk companies and foreign firms that have thrived due to public doubts about food safety. Still, problems with production still mean that China imports huge quantities of dairy products. Here are the numbers for whole milk powder alone: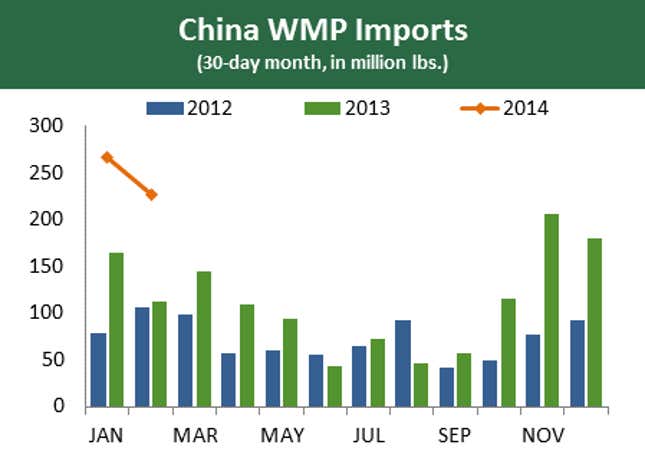 Back on the front lines of the rapidly fermenting cheese wars, UK farming minister George Eustice  said that "inspectors will now visit all factories exporting cheese to China to demonstrate their high standards, so these restrictions can be lifted as soon as possible."