Correction: an earlier version of this article stated that the wheel at the center of the Indian flag is the cotton spinning wheel; it's the Ashok Chakra.
There's one thing we can all agree upon about Narendra Modi: He's the most fashionable Indian politician. By a long shot. Modi's style is marked by the colorful kurtas that cover his 56-inch chest. (Notably, he shares that notoriously wide physical virtue with personalities such as Vladimir Putin and Benito Mussolini.)
From Gandhi's khadi—the hand-woven cotton cloth that became a symbol of nonviolent revolution—to Jawaharlal Nehru's jackets, clothing is important in India, a country where textile is profoundly connected with heritage and culture.
The short-sleeved signature Modi kurta has become a popular garment, and helped its maker, a tailor in Ahmedabad, build a successful clothing empire. Bipin Chauhan, who hails from a family of tailors, now produces and sells about 25,000 Modi kurtas a year. In an interview with Scroll, the artisan says he pays house visits to Modi three times a year to measure him and take orders.
I give few suggestions on the fitting, colors and the patterns, but finally what Modiji wears for his rallies, speeches or functions is his own style and personality. … He is very particular about his appearance and every time mixes different kurtas with jackets.
Here's a look at the rainbow medley that is Modi:

The tailor hopes that his best customer will become India's next prime minister, and that he'll make history with his kurta in the same way that Nehru did with his stylish jacket.
While Nehru, India's first prime minister, is still considered an icon of style by Indian men, it's hard to say the same of his great-grandson, Rahul Gandhi. If anything, he has kept his fashion statements to the bare minimum, choosing, it seems, to exclusively experiment with style via different growths of facial hair.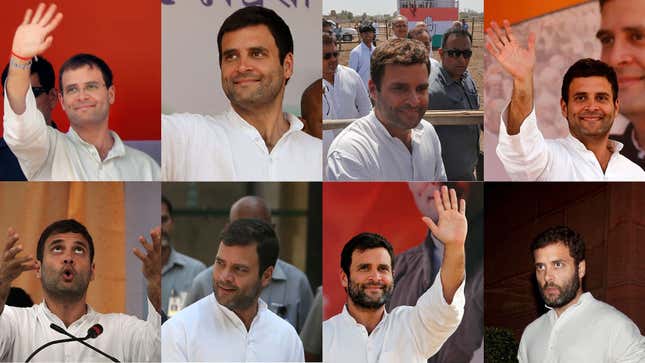 That's hardly much competition for Modi.
Meanwhile, Arvind Kejriwal's staples are the white hat, a perfectly ironed shirt, a head scarf, and a sweater to face Delhi's winters (and his frequent hunger strikes). The wardrobe of the common man—as his Aam Admi Party is known—but hardly a formidable fashion foe.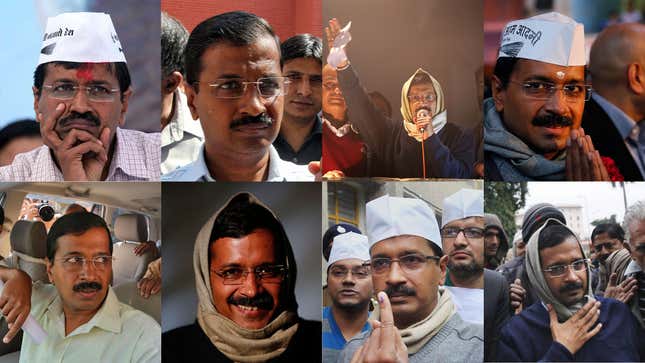 We welcome your comments at ideas@qz.com.