We've said it before—where you graduate from doesn't matter and a new survey from Gallup and Purdue University confirms the sentiment.
Researchers found that attending a public or private school, whether it was elite or less selective, had little bearing on one's feeling of well being or how engaged graduates were with their post-college work. Gallup defined well being based on measures of social, financial, and physical status, as well as how the survey's 30,000 respondents rated their sense of community and purpose. The type of school graduates attended had little impact on whether they reported high levels of well being more or less across the board: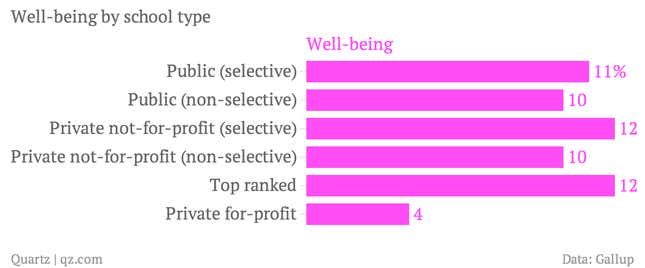 What did affect well being for graduates were factors such as having professors and mentors who cared about them, winning a relevant internship, participating in extracurricular activities, completing long term projects, and feeling supported by their school. Although graduates of prestigious schools may earn more, money didn't translate to a greater sense of well being.
If employers want engaged employees—those connected to their work—they might be better off looking into what students got out of school,  rather than than focusing on transcripts.
Students who had engaging and interested professors and mentors at school were more than twice as likely to be engaged at work. This chart shows that school type had little impact on engagement, although private for-profit schools tended to yield fewer engaged graduates. ("Top ranked" refers to a school in the top 100 of U.S. News and World Report's annual undergraduate college rankings.)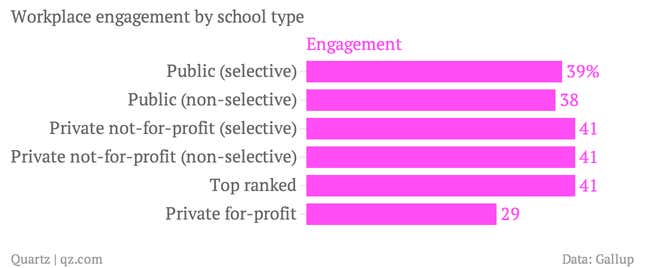 Schools still have work to do in terms of focusing on the factors that actually raise the bar on helping students find engaging careers and be happier. 63% of those surveyed had a professor that got them excited about learning.
But fewer than than a third of graduates surveyed strongly agreed that professors and mentors cared about their futures, or had an internship that actually had them use what they studied. Only 29% of students felt their schools properly prepared them for the world after graduation.