Chinese e-commerce giant Alibaba just filed for a public offering in the US and answered one key question investors and observers have been asking: Its ambitions are not international, at least not yet.
When Alibaba decided to list in the US and not Hong Kong, observers wondered whether the move was motivated by plans to expand in the US and compete with the companies that founder Jack Ma once modeled the firm after, like eBay and Amazon. As we reported, Alibaba has been on a shopping binge, picking up investment in American online retail, messaging app, mobile search, and even a taxi-sharing app similar to Uber.
But in its filing today, Alibaba framed its growth prospects in terms of only the Chinese market, specifically the growth in the use of smartphones to get online and a still-low level of e-commerce penetration, and the opportunity for offline retailers to use online marketplaces like Alibaba's Taobao or Tmall. In fact, Alibaba doesn't list eBay or Amazon in its list of competitors, naming only Chinese firms, internet giant Tencent and search portal Baidu.
"Our business benefits from the rising spending power of Chinese consumers," the company said. An overwhelming majority of Alibaba's revenues come from its business in China, which has grown over the last two years while revenue from Alibaba's international businesses has barely budged.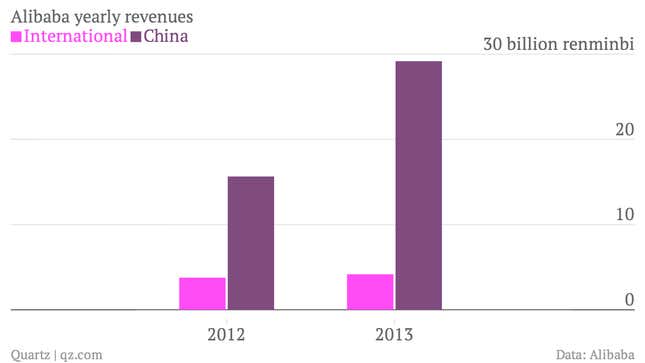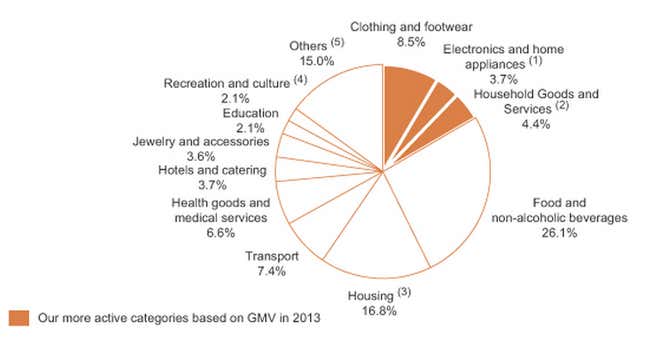 Moreover, it's not apparent that funds from the listing will go toward international expansion. Alibaba said that the proceeds would be used for "general corporate purposes" and short-term debt instruments or bank deposits.