Competition in natural and organic groceries has intensified in the US, and it's hurting the company that has long dominated that business—Whole Foods Market.
The high-end supermarket chain reported earnings overnight, which weren't terrible, but it also lowered its forecast for the year ahead, and that has freaked investors. Shares are down by about 17% in the pre-market this morning. The company is forecasting "same store sales" (sales from stores open for at least a year, so it excludes the effect of new store openings) to grow at their slowest pace since 2009.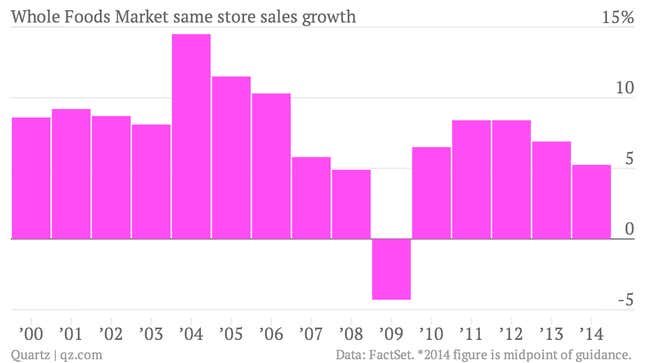 On the company's earnings call, co-chief executive John Mackey acknowledged that competition is more intense in natural and organic foods than ever, with supermarket chains like Kroger and Wegmans, new entrants like Sprouts Farmers Market (which went public last year), and Trader Joe's (owned by German supermarket conglomerate Aldi) all competing for market share.
Whole Foods has been responding up to now by lowering prices. What's worrying Wall Street is that it doesn't seem to have any better ideas.
"We've had rising gross margins for the last five years, so we haven't been investing in price as aggressively if we probably needed to do," Mackey said on the earnings call. "So we're going to be investing more aggressively in price going forward, while continuing to take our expenses down and continuing to innovate and differentiate, that's our strategy, we've laid that down, so there you have it."
But many people don't think this will work. Piper Jaffray analysts argue (based on their own surveys) that unlike most consumers, Whole Foods' existing customers aren't motivated primarily by price. The selection and assortment of products on the shelves is the most important factor.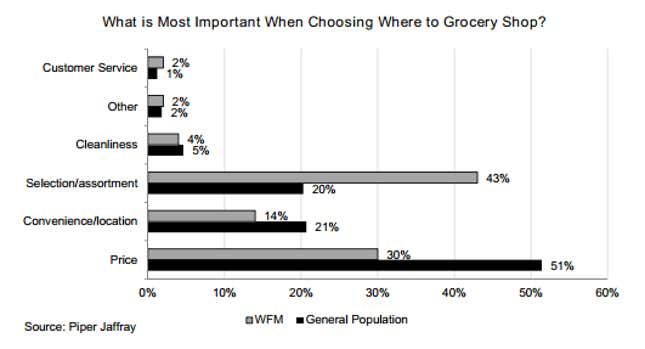 The analysts worry that if Whole Foods keeps cutting prices, it could sacrifice margins in vain, because the price cuts it has made so far haven't brought in more shoppers. This might be because the company hasn't done a good job of telling customers about the price cuts; but spending on advertising is only going to be worse for the bottom line, the short term, at least.
"We think our price investments are going to gain traction over time," Mackey said on the earnings call. "It doesn't happen like immediately when you begin to lower prices. It takes a while for customers to see it and respond to it."