In Amethi, Uttar Pradesh, the roads are not measured by length, but by the depth of the holes in them, Smriti Irani, the Bharatiya Janata Party's candidate, joked in a speech on April 29. The crowd, gathered in sweltering 41 degree Celsius heat, laughed and cheered her on.
Irani is challenging Rahul Gandhi, in a district where loyalty to the Nehru-Gandhi political dynasty runs deep and a member of the family has been elected for decades. Local disenchantment with the dynasty is clear this election, especially over the lack of industry and employment as well as the poor conditions of roads.
Ram Gopal Verma, 40, said he is switching sides from Congress to BJP. He was sitting next to a paper cutting machine in the verandah of his house, which was close to where Irani was speaking.
"Listen, here comes another joke," said Prasad, who has memorized the jibes in Irani's speech. "She is a good speaker, she talks about development," he said. "If anyone cares about the country today then they will vote for the BJP."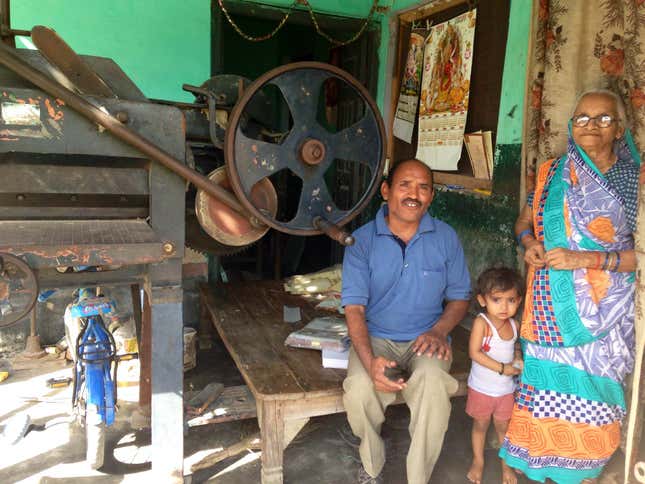 Irani is already a face recognized by millions of Indians because of her role as the lead character Tulsi in the long-running Indian soap opera Kyunki Saas Bhi Kabhi Bahu Thi, or "Because the mother-in-law was once the daughter-in-law."
Verma said that his 75-year-old mother has tuned in to the show regularly for the past eight years.
From the campaign ground, Irani headed to attend a local wedding, a popular local political custom to generate good will among the voters. Then she headed to another rally. Quartz accompanied her during the drive to the next location, to discuss how she feels about challenging the Gandhis and why she thinks she would make a good politician.
You are contesting from Rahul Gandhi's bastion, do you really think you can win?
I do, don't you? People are coming out in hordes. If this was truly Rahul Gandhi's bastion then why would people come out so strongly to support me? Why would there be so much anger against Rahul Gandhi?
That is not an anger visible only to me as a BJP candidate but that's an angst that you as a reporter may have witnessed as well.
I think people of this constituency have realized that this whole thought process of demarcating an area and saying 'This is my bastion' has not really led to development. It may have served Rahul Gandhi, but not the people. In a democracy, it is we who seek to serve people and not dominate a particular landscape.
You and Priyanka Gandhi Vadra (Rahul's sister, who has been campaigning vigorously in Amethi) have exchanged some barbs…
It is interesting that she is very confused about what I am. From 'drama' to 'armchair politician.' She doesn't arrive at one definition. But whatever I am, I am on the basis of my own capacity, strength and hard work. I don't live off my family name.
What are you offering the residents of Amethi?
Everything is a priority. There has been no development here for the past 60 years. We've talked about electricity, drinking water and primary education. There is no government degree college for girls. Industry is not actually opening up here. Roads—forget about potholes—there has to be a road existing for potholes. People are living in extremely challenging times here.
What do you make of your other competition in Amethi Kumar Vishwas from the Aam Aadmi Party?
There is no competition.
Your party is seen as favoring Hindus over minorities. Does that bother you?
I'm a woman with a last name called Irani [she is a Hindu who married a Zoroastrian]. What does that say? I'm an example of a micro minority. BJP has always said that put nation first.
National interest lies in development and good governance. The Congress Party does not want to discuss serious issues of development, but indulge in defamatory stunts. The people of this country have seen through this ploy and Narendra Modi is fast emerging as the next prime minister of this country.
The BJP is fielding the lowest number of female candidates of any party. Do you see that as failure?
We are the only political party that has reserved 33 percent positions within the organization for women, including the election commission of the party, which decides which man or woman gets a ticket. I'm of the opinion that we're giving the most winning candidate in the constituency a ticket.
What are the challenges that come with being a woman in politics?
I've never faced a challenge.
Are there any advantages of being the star of India's biggest TV serial?
Being an actor is a disadvantage to being taken as a serious politician.
But you're already popular with a fan base…
No. For you to be taken as a serious politician by your teammates and senior journalists that only comes from your personal input into your political growth. It does not come from your celluloid image.
Do you relate to the character of Tulsi in the show?
I created that character in conjunction with Ekta [producer Ekta Kapoor] to be as close to the real me as possible. So that when people see me off-screen they could say 'She isn't that different.' But there are some kinks—I wouldn't in real life like standby and watch Mihir [the character's husband] have another lady in his life. I wouldn't do all that jazz. Mr. Virani can get lucky, not Mr. Irani.