Even before Chinese e-commerce giant Alibaba's IPO in New York later this year, it can clearly be counted as one of the country's, if not the world's, most-successful tech start-ups. It's worth noting that the company's fast-growth history includes something most of its Silicon Valley rivals lack—women. Of the company's 18 founding partners, 6 are women.
Compare that to…well, just about any Silicon Valley start-up, where the percentage of women founding venture-capital funded companies has been estimated at a pitiful 2%. An all-male culture is such a given in Silicon Valley that there are almost no women in a fictional HBO show about the tech scene, and hiring a woman for a fledgling start-up is sometimes viewed as a way to add an "office mom." 
When Twitter filed for its IPO last year, only one of the 12 members of its leadership team, executive officers and board of directors was a woman. (The company has since added former Pearson head Marjorie Scardino as a board member). Facebook's founding partners were all men, and it took the company years to add a female board member, and then only under heavy pressure. Just 15% of Amazon's senior managers are women, and none of the top female executives report to the CEO.
In contrast, Alibaba's founder Jack Ma's ventures have included women from the very beginning. His first start-up, "China Pages," was funded with a 7,000 yuan ($1,123) loan from his sister, and his first employee was his wife Zhang Ying, according to this Bloomberg profile. When it didn't take off, he took a government job, but then returned to entrepreneurship in 1999, starting up Alibaba, again with his wife and a group of 16 friends who lived in the Lakeside Gardens apartment complex in Hangzhou.
In the group's early days, they sat on the floor of Ma's apartment for meetings, were paid a pittance and scrimped by eating cheap lunches, according to a profile in IT, a Chinese tech news website (link in Chinese).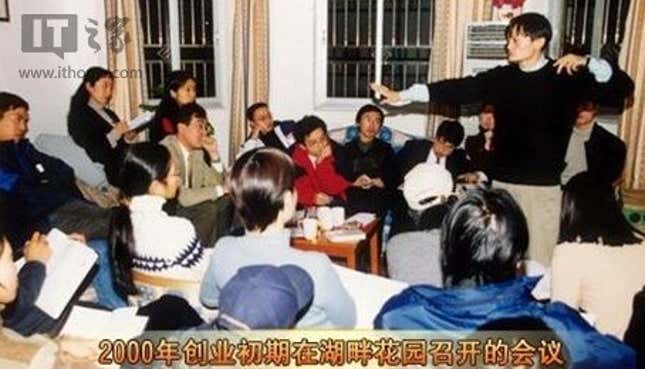 The women were often part of husband-wife teams, as would make sense in a garage start-up, and they were often relegated at first to stereotypically "female" responsibilities, like marketing. But many have expanded their roles in the company today (and marketing has certainly been crucial to the company's success). Alibaba's female founders, besides Ma's wife, include:
Peng Lei: Peng's first tasks at Alibaba were to run human resources and marketing. She now runs the company's Small and Micro Financial Services Group, which includes online payments platform giant Alipay.
Trudy Dai: Dai set up the company's telephone sales division, and has served as general manager of international operations. She is now the company's "Chief Talent Officer," a key role given Alibaba's 25,000 employees.
Jiang Fang: Jiang was appointed the director of "corporate culture and values," which might sound like a somewhat undefined position. But that meant she headed an internal investigation into corruption in 2010 and was the public face of the company's response (which included the resignation of Alibaba's COO and CEO).
There's no guarantee that the company's relatively equitable (at least compared to Silicon Valley and the US tech industry) gender balance will continue after it goes public. Alibaba has not yet revealed the names of the 28 "Lakeside Partners" who that will control the company, and only one of its seven executive directors is female, according to the company's prospectus. But 5 of the 14 members of the company's "executive team" are female, and two women—CFO Maggie Wu and founder Peng—were among those reportedly "handpicked" by Ma to be the next generation of leaders, which is more than most Silicon Valley companies can say.
Jennifer Chiu contributed reporting and translation.