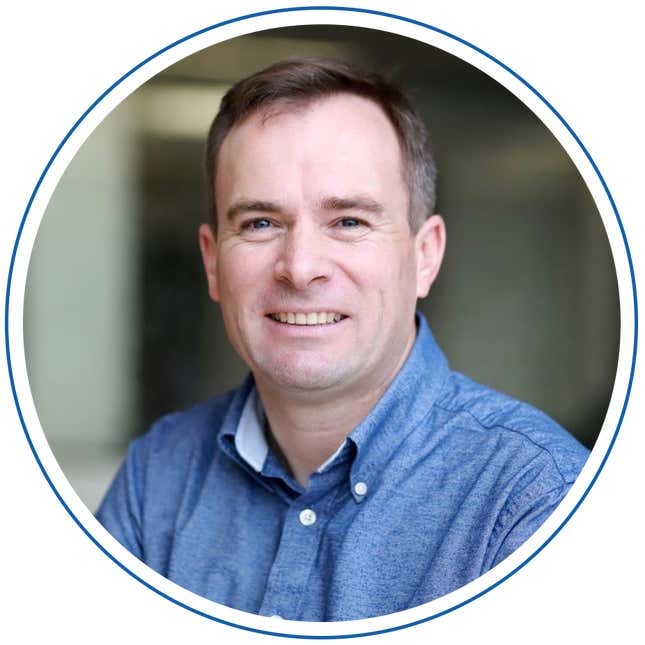 Business leaders often see digital transformation as a challenge to be met by acquiring new technology. But a recent study conducted by the market intelligence firm IDC found that digital transformation projects in the UK are delayed by 8.1 months, on average, due to a lack of skilled tech and business professionals—not a shortage of software. And as the digital economy grows, demand for these roles will only increase.
Stuart Mills, VP of Trailhead & Ecosystem, spent 15 years leading digital innovation projects before stepping into a senior role within Salesforce's EMEA learning platform. Throughout his career, Mills says, he's seen that true transformation starts from within. Only when companies invest in and nurture a deep-rooted learning culture can they hope to fill the gap.
We recently caught up with Mills to separate fact from fiction on organisational evolution.
Q: Is digital transformation about technology, people, or both?
A: The word digital implies moving activities online or using technology to do something differently. But the fundamental element is an organisation transforming itself from the way it does something today to the way it'll do it tomorrow. If you don't invest in your team, you won't really get anything from technology.
Q: What are the top three ways the workforce of 2026 will be different from today?
A: The first thing is agility. Technology is evolving so fast. You can't make a business decision that's going to take two years to deliver. You've got to do things iteratively.
Related to that, you've got to have the skill to continuously learn. We're often serial in the way we think about education: You finish school, stop learning, and start working. No! That's not the way this works.
Finally, it's the ability to understand future technologies. So there is a more technical part, but it's possibly the easiest part. If you've got people who are agile and learning, they'll play with new tools and know enough about how something works to understand its implications.
Q: That's interesting. A lot of people assume technical skills are the big challenge.
A: There's a myth around the depth of knowledge required for tech jobs.
First, there will always be specialists, but if you make it all about them, it stops a lot of people from making the start of the journey. There's more accessibility to this than many people realize. We need digitally proficient workers in administrative roles, sales, marketing, finance, and HR, too. It used to be that technical skill was required for some jobs and not others, but with transformation taking place across the business, that's no longer the case.
Also, those jobs at the far end of the spectrum are amazing. Data scientists and robotics engineers are rockstar roles, but don't let those distract you. We need loads of competencies along the way.
Q: What distinguishes a workplace culture that's conducive to transformation?
A: It's a culture that says, 'This is a learning environment. This is a place you come to evolve.'
I use the word intrapreneurship: people who are inside organisations, but with a view to change and drive innovation.
Instead of leaving, they stay with the company. They think, 'I could do something with this organisation. It's got a lot of good people, and if we move two centimeters in another direction, that would be more impactful than me doing it on my own.'
Q: There's pressure to transform quickly, but learning takes time, and people learn at different speeds. What's the solution?
A: There's what I call the 70/20/10 model. Seventy percent of learning happens on the job, 20 percent is coaching, 10 percent is formal learning. If you've got a learning culture and learn while doing the job, that will stick.
You also need a platform that supports different types of learning.
Self-motivated people can go in and learn at their own pace, whether it's projects, courses, or understanding a new job role. Then some people who need a bit of help to get going can do a bootcamp-style course, where they do a few hours a week. Then there are employees who only learn when you sit in a room together and say, 'This is what you need to take in' and do exercises along the way.
Q: Are there specific metrics that can show businesses if their approach to learning is paying off?
A: With online learning tools like Salesforce's Trailhead, we can look at people completing modules and taking the quizzes at the end. What matters is not that you get a 100 percent on everything, but that you're continually going back and learning the next thing. There are milestones like credentials or certifications, which are a control point to say that you've learned enough, and proven it, to be ready for the next stage.
What's more difficult to measure is how knowledge is being used to deliver work. Honestly, there's nothing quite like recommendations from others. If you're a freelance developer and somebody thanks you once you've finished, those things add up. And, obviously, you build a portfolio of the work.
Q: How can leaders and managers help employees embrace transformation, even when it's challenging?
A: There's nothing truer than the saying 'Change is constant.' As a leader, you need to project that you live in a world of change and showcase your own resilience. Showing vulnerability around change recognises that everybody goes through a fear factor.
Then, it's answering employees' questions: 'Why is this relevant to me? Why is this important?' Otherwise, employees get frightened. They may think 'Is restructuring coming? Is something going to take away our jobs?' Not providing context for learning can be frightening.
So, think about internal communications in a creative way. Be an authentic and vulnerable leader. Share your own story.
This content was produced on behalf of Salesforce by Quartz Creative and not by the Quartz editorial staff. Sources are provided for informational and reference purposes only. They are not an endorsement of Salesforce or Salesforce's products or services.