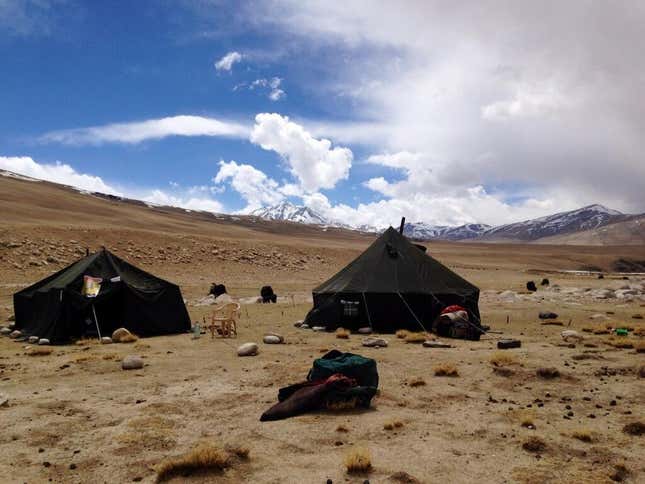 The spectacularly beautiful mountainous region of Ladakh, which borders Tibet, has some of the most rugged terrain in India and the highest polling station in the world, at over 16,000 feet above sea level.
This week, people came by horse and foot to vote at the Anlay Puh station, which has 85 registered voters.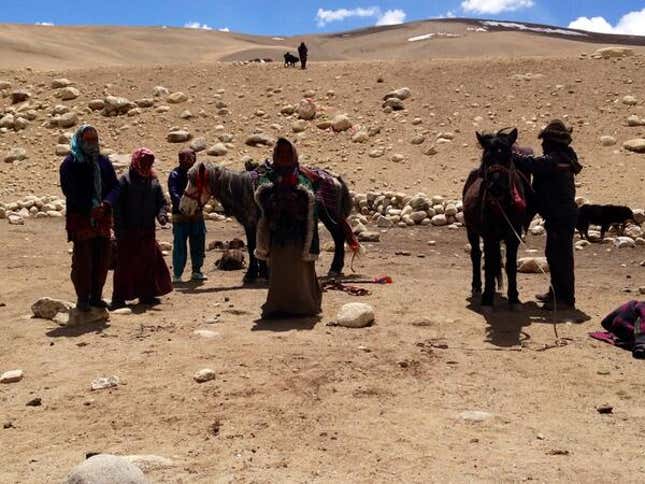 Ladakh is beautiful, but thanks to the altitude it is also one of the toughest places to live in India. For six months of biting winter, people can't work outdoors or leave, because heavy snow makes cuts off the connecting roads. Vegetables from other regions have started trickling into the city this week, as the snow has melted from the high passes in the mountains.
Sonam Angmo, 60, and Yangchan Dolma, 57, are good friends who sell vegetables together in the marketplace in Leh city in Ladakh.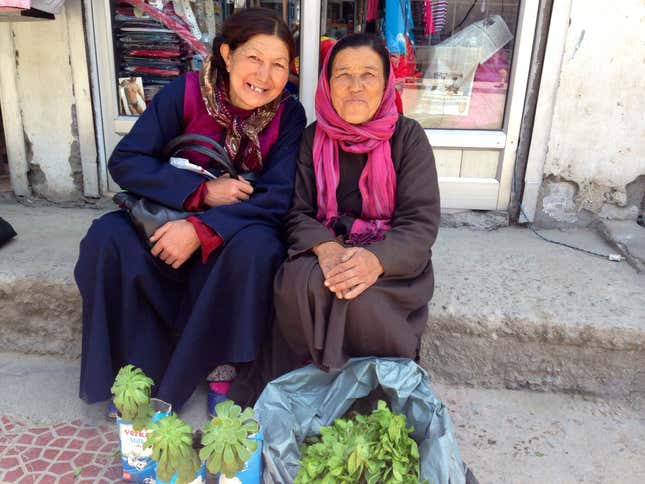 On May 6, Angmo voted for the Congress Party and Dolma voted for the Bharatiya Janata Party. Unlike the hostility that has sprung up among opposing voters elsewhere in this election, Dolma and Angmo are not letting politics come between them.
"I like Modi, I've seen him on television and he looks like someone who can make tough decisions," Dolma said, as her friend giggled and teased her. She said she prefers the BJP because the party pledged Ladakh would become a union territory with its own government, instead of being a district under Jammu and Kashmir State.
Becoming a union territory is important to many of the 250,000 residents of Ladakh, who have say they feel discriminated and forgotten by successive state and central governments. The Ladakh Autonomous Hill Development Council was set up in 1995 to govern the remote region. Still, for the past six decades, most national governments have made little effort at developing Ladakh, despite the fact that it is only an hour flight from the nation's capital and contains some of India's most beautiful scenery.
Tsering Samph, the Congress Party candidate from Leh, also wants Ladakh to be a union territory. But Samph and Congress are running on a promise of development here rather than autonomy.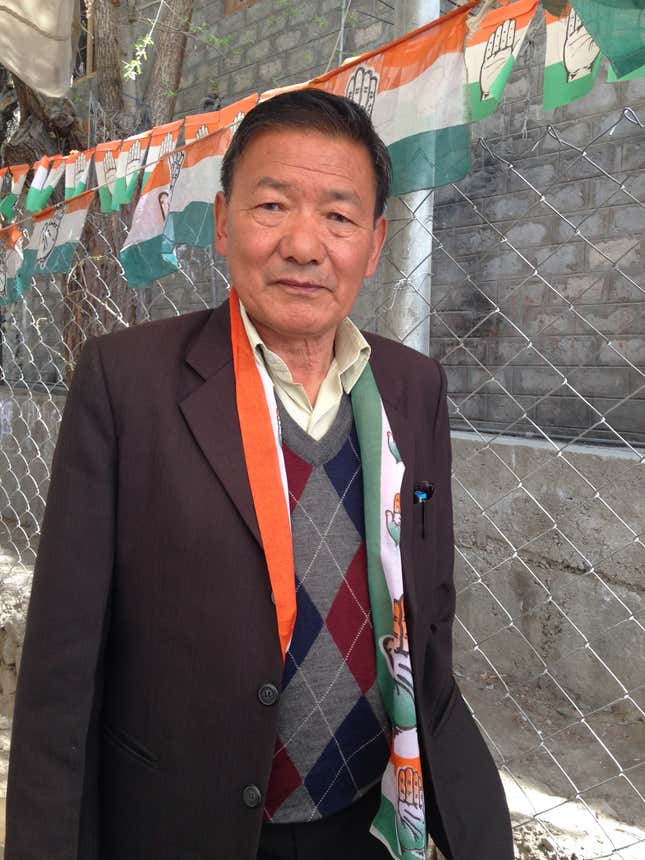 In an interview with Quartz, Samph explained why he believes the BJP promise is exploiting voters' fantasies.
What are you offering the people of Ladakh?
First, we are just reminding people of what has been the contribution of Congress Party in Ladakh. Ladakhis were given scheduled caste status after an eight-year agitation. We got an autonomous hill council here. And we have got two power projects, one in Leh and one in Kargil and people are hoping that they would get 24 hour power.
When were power projects commissioned?
Last year. And look, we have almost 24 hours electricity for the first time in the town after 65 years of independence. We have to take this to the villages as well.
So what more are you offering the people if you win?
The Congress Party has sanctioned Zojila tunnel and the tendering process has started. The tunnel will connect Ladakh to Srinagar [the summer capital of Jammu and Kashmir] and from there we can connect to the rest of India.
Connectivity has been our biggest problem. It will take another 10 days for the snow to melt. Things will change with this tunnel. Our people's health condition will improve. They cannot eat vegetables for six months.
What about industry and employment?
There is no industry here. We are trying for small industries but this is a big challenge for us.
What have you done for employment?
In the last three years, we have given 1,300 government jobs. We have a regiment of Ladakh Scouts but males are getting better opportunity. There is paramilitary, Indo-Tibetan Border Police, which is looking after the Indo-China border. There is a problem with women's unemployment, we are demanding a female battalion at the ITBP, we are also demanding a combat scouts battalion in Ladakh Scouts.
Why have basic facilities like employment and connectivity not happened till now?
The country was not able to spend too much on single things. The country has improved so they are coming up with big projects.
Do people here feel connected to the politics in Delhi—do they care about Sonia Gandhi, Rahul Gandhi, Narendra Modi?
Up from the mountains we see everything below. We see all the games being played in a lighter way. No seriousness. We have a strong cultural tradition here, we speak cautiously and widely.
But our political system is far better than down there. Our rivalries and speeches are far better. Traditionally, we speak only the right thing.
What do you mean?
Nitin Gadkari of the Bharatiya Janta Party came here [on May 4] and promised that if Modi would be prime minister then Ladakh would be a union territory the next day.
How can you say this here? China is looking at you, we have Pakistan is on our border Central Asian counties are here. And he is talking nonsense. If BJP does this then I will be the first one to join them.