The US government recouped more than $88 million in counterfeit currency last year, and more than half of it was made on regular old inkjet or laser printers.
That's according to Bloomberg, which tells the story of a woman who pleaded guilty to counterfeiting up to $20,000 in fake bills over a two-year period. She took $5 bills, soaked them in degreaser, scrubbed off the ink with a toothbrush, dried them with a hairdryer, then reprinted them as $50 and $100 on a Hewlett-Packard printer, the news service said.
While the counterfeiting business used to be specialized, these days it's easy for anyone with a printer to give it a try. And that's just what's happening in the United States. More from Bloomberg:
"Statistics highlight the growth: In 1995, less than 1 percent of fake bills were produced on digital printers. In the last fiscal year, nearly 60 percent of the $88.7 million in counterfeit currency recovered in the U.S. was created using inkjet or laser printers, the Secret Service says."
That's not the case outside of the United States, where most of the fake $68 million—in US dollars—recovered last year was made with commercial-grade offset presses. The Secret Service says those kinds of machines are super efficient and can "more easily escape detection by US authorities and even operate with the backing of corrupt governments," according to Bloomberg.
Counterfeit currency has a long history in the United States. During the Civil War, one-third of all the money in US circulation was fake, according to the Secret Service. (The agency was established in 1865 as a response to widespread counterfeiting.)
The best way to spot a fake bill these days? Look for blurry borders. Many of the images on counterfeit money aren't as crisp as the real deal.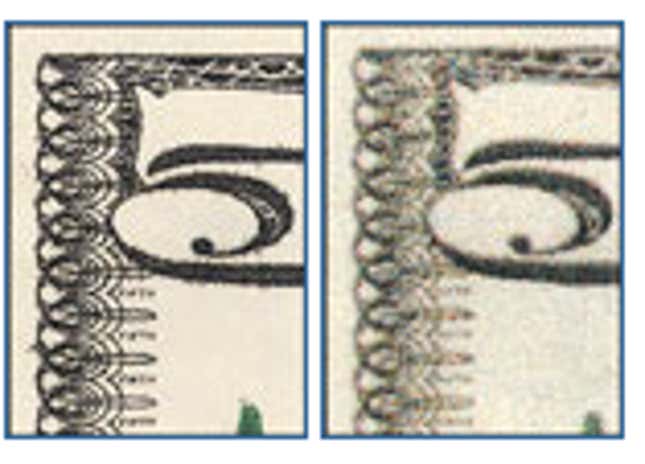 Even the face on a bill will look different in a fake. From the Secret Service's website: "The genuine portrait appears lifelike and stands out distinctly from the background. The counterfeit portrait is usually lifeless and flat."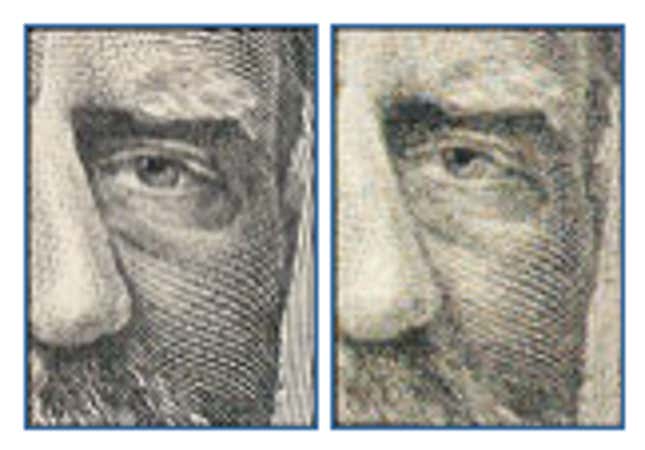 You can also look for tiny red and blue fibers that are embedded in real bills. "Often counterfeiters try to simulate these fibers by printing tiny red and blue lines on their paper. Close inspection reveals, however, that on the counterfeit note the lines are printed on the surface, not embedded in the paper," the Secret Service says. There are even canine units trained to sniff out fake bills.
All in all, there are some $1.27 trillion in circulation. Only a tiny fraction of that money is fake, according to Bloomberg, but the Secret Service still made more than 3,600 counterfeiting arrests last year.
This post originally appeared at The Atlantic. More from our sister site:
Why the official explanation of MH370's demise doesn't hold up
The cities where Americans bike and walk to work