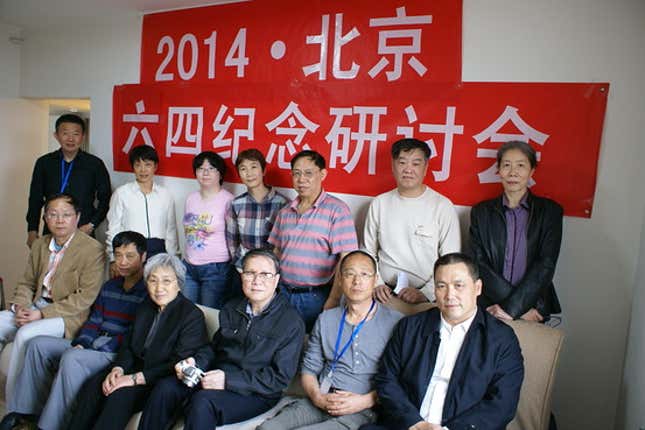 This article was last updated on May 30 at 4:00 PM in Hong Kong.
Ahead of the 25th anniversary of the Chinese government's deadly June 4, 1989 crackdown on student protests in Tiananmen Square, Beijing is casting a wide net to round up would-be agitators.
The government has "routinely tightened control over activists as well as relatives of those who died during the protests" before the June 4 anniversary and "continues to deny any wrong-doing," according to Human Rights Watch, but this year's roundup seems especially thorough. What's also striking is the advanced age of many of the detainees: because the event was 25 years ago, many of the "grownups" who witnessed it, publicly denounced it, and continue to mark it are now of retirement age (though many continue to write, teach and report).
Here's a list of the people who have been detained, drawn from statements by other activists, their families and, in some cases, state-owned media. It is likely there are other individuals who are in custody whose names have not been made public.
Human rights lawyer Pu Zhiqiang: A student participant in the Tiananmen Square protests, Pu became a lawyer protecting dissidents including artist Ai Weiwei, and because he was born in 1965 is one of the youngest. Since Pu's criminal detention on May 6, for "creating a disturbance" after attending a seminar on the June 4 crackdown, there here has been little information about his whereabouts. His name is completely censored on social media. Several others from the May 3 seminar (where the picture above was shot) have also been detained. His niece, lawyer Qu Zhenhong, was detained on May 15.
Philosophy professor Xu Youyu, born 1947: Before the June 4 crackdown, professor Xu walked through Tiananman Square telling students meditating there in protest to leave because troops were coming. The students responded with a "naivete and earnestness [that makes me] sigh even today," he wrote in a 2009 essay on the 20th anniversary, saying to him "Why would the people's army suppress us?"
Xu was rounded up after the May 3 seminar, human rights website ChinaChange.org reported, along with Beijing Film Academy professor Hao Jian, who has also taught at Harvard University, author Liu Di, and dissident author and former professor Hu Shigen, born 1964. Hu was previously jailed for over 15 years on charges of "organizing and leading a counter-revolutionary group" for planning a June 4 anniversary event. The whereabouts of another attendee, Liang Xiaoyan, born 1957, a lecturer at the time of the original Tiananmen Square crackdown, are unknown, the South China Morning Post reported.

Journalist Gao Yu, born in 1944, was detained for more than a year after the Tiananmen Square protests. She has been in custody since April 24 for "leaking state secrets," according to reports in state-run media. Gao's filmed confession, in a prison uniform, was recently broadcast on state-run media, in which she expressed "deep remorse" for her actions.
The document she was believed to have leaked, an internal Communist Party policy guide, was published earlier by the state-run People's Daily, according to her US-based magazine publisher.
Yao Jianfu: A retired scholar, Yao wrote a book about the Tiananmen Square crackdown that was published in Hong Kong in 2012, in which the Beijing mayor at the time called the incident an "avoidable tragedy." Yao and Gao appeared together at a 2012 photo exhibition in Hong Kong: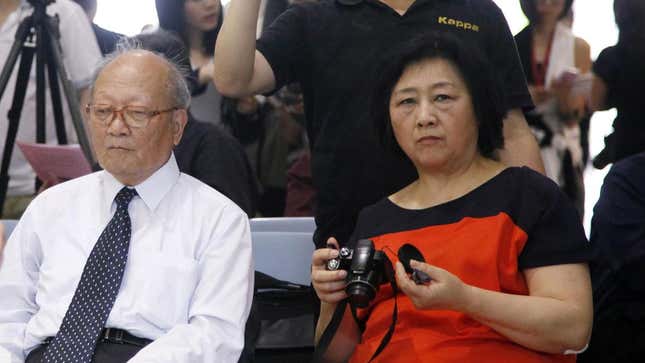 Dissident and journalist Xiang Nanfu, 63: Xiang was detained in Beijing for selling "fabricated information" to a foreign website Boxun News, state media reported May 13. Xiang has written for Boxun for many years, mostly about petitioners who come to Beijing to plead their cases with government there, the SCMP reports.
Activist Wen Kejian and 11 others were detained by police evening of May 13 at a restaurant in Hangzhou, an attendee at the dinner told the AP. The rest were released, but Wen, an advocate for democracy, remains in custody.
Journalist Wu Wei, a former reporter for the South China Morning Post, has been detained in Beijing, according to several reports in Hong Kong's Chinese-language press (link in Chinese).
"Justice For All" head Yu Fangqiang and several other activists: Beijing police detained Yu and others ahead of a planned meet May 6 about the difficulties gay groups have registering as NGOs in China, he told The New York Times. The detainees were released but Yu said he was ordered by police to leave Beijing.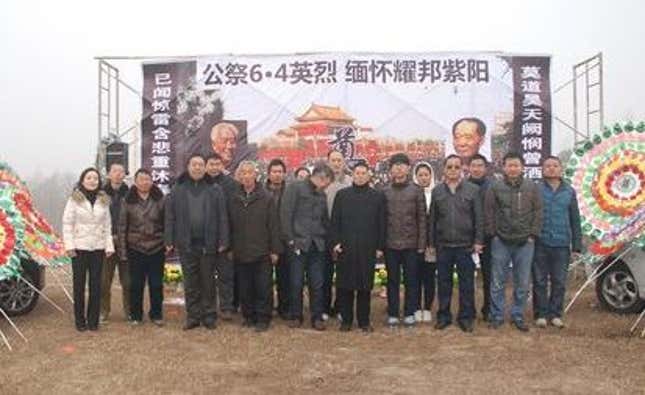 Yu Shiwen and his wife Chen Wei and three other activists were detained on May 23 for "gathering a crowd to disturb public order" in their hometown of Zhengzhou after organizing a commemoration to Tiananmen Square victims in February, Chinese Human Rights Defenders reports.
Activist Wang Aizhong was arrested in Guangzhou on " suspicion of picking quarrels and provoking troubles," his lawyers said May 30. He is an organizer of the "Southern Street Movement," started in 2011, which asked pro-democracy activists off the internet to gather in public. Also in Guangzhou, activists Wang Qingying, 32, and Yuan Xintin have been detained since mid-May.