As the world awakens to the need for sustainable growth, new ways of looking at how businesses and investors affect the environment are critical. Although "green investing" has gained ground in recent years, it's hampered by a lack of well-defined and quantified definitions. Even in the field of clean energy, an area where these issues are easier to identify and eco-minded approaches seem obvious, well-intentioned investors run the risk of causing unintended but damaging consequences. For example, while biofuels certainly help reduce CO2, producing them can have disastrous impacts on biodiversity. 
That's why a broader and more detailed type of analysis is needed to protect our precious ecosystems—the sort of rigor offered by the Planetary Boundaries (PB) framework. This framework is a tool that Pictet Asset Management, one of Europe's leading investors, has used for almost a decade to define the environmental cost of economic activity. 
Developed by a team of leading scientists at the Stockholm Resilience Centre (SRC) and recently explored in the Netflix documentary series Breaking Boundaries, PB has evolved into an important starting point for how the investment managers at Pictet AM curate their portfolios.  
The scientific framework
The PB model identifies the nine most critical environmental dimensions, illustrated below, essential to maintaining a stable biosphere required for human development and prosperity. It then demarcates the "safe operating space" within which human activities should take place for each of these dimensions. 
For example, for global water use to remain at sustainable levels, humans must not draw on more than 6 million cubic metres a year. Breach that, or any of the other eight thresholds, the model says, and we risk triggering abrupt or irreversible damage to the Earth's biophysical systems.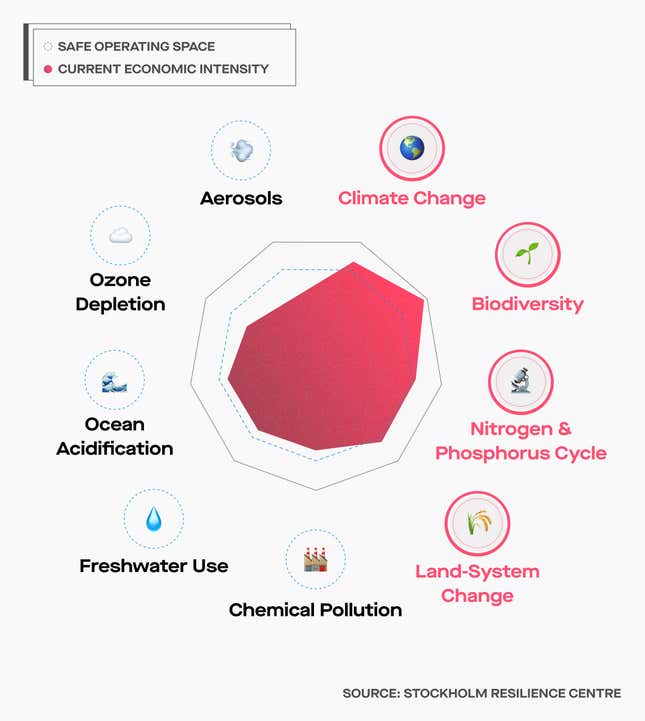 🌎 
Climate change
Increasing emissions accelerate global warming, change precipitation patterns, cause rising sea levels, and increase storm severity
🌱 Biodiversity
Loss of species higher than natural background rate, gravely endanger our natural "life support systems"
🔬 Nitrogen and phosphorus cycle
Atmospheric N has reached an unprecedented scale with detriments to human health, eutrophication, and ozone layer
🌾 Land-system change
Conversion of natural habitats for intensive agricultural or industrial production release GHG and degrades ecosystems
The investment outcome
Since 2012, Pictet AM has been adapting the SRC's model to help its investment managers measure the environmental footprint of 100-plus companies. So how does it work?
STEP 1
Using the Planetary Boundaries matrix, Pictet AM analyses every activity in the production of a good or service, from the extraction of raw materials, manufacturing processes, distribution to transport, product use, and disposal and recycling, and then ranks each firm by its environmental footprint.
STEP 2
To determine which firms are developing products and services that make a real difference in reversing environmental degradation, investment teams then select the companies whose products or services make a positive impact on at least one environmental dimension in the PB model, without breaching the safe space of others.
STEP 3
Once Pictet AM has identified firms delivering positive change, the next step is to conduct detailed company-by-company research, and, using a proprietary scoring system, to pinpoint firms with the most attractive risk-return characteristics. 
STEP 4
The result is a concentrated portfolio of around 50 stocks, with each investment combining an attractive risk-return profile with a small ecological footprint. 
With more than 20 years' experience in thematic investing, Pictet AM has built up a range of 15 products for such diverse industries as timber, water, and clean energy.
This investment approach forms the bedrock of Pictet AM's Global Environmental Strategy, launched in 2014, which today stands at more than USD12 billion invested with a positive impact objective. Pictet AM recently teamed up with John Hancock to allow US investors access to a similar mutual fund strategy, and Pictet AM estimates the environmental theme will grow at 6-7% a year, outpacing the global economy. 
Using the Planetary Boundaries framework, it is now possible to single out those companies at the forefront of change because going green is not just good for the environment, it's good for investors.