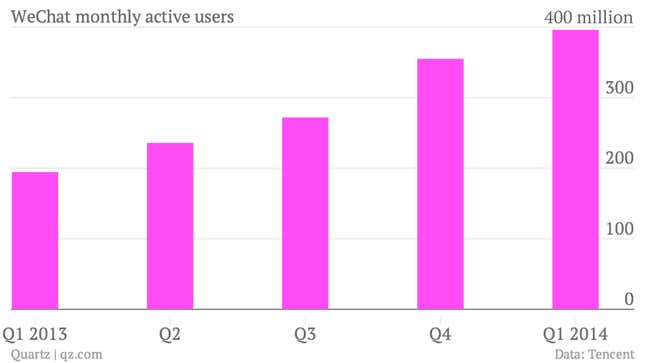 The numbers: Robust. Chinese internet giant Tencent's first-quarter profit (pdf) easily surpassed analyst estimates, rising by 60%, to 6.46 billion yuan ($1.04 billion), from a year ago. Revenue climbed by 36%, to 18.4 billion yuan.
The takeaway: The company's multi-purpose WeChat messaging platform is still going strong, with nearly double the number of monthly unique users from a year earlier, which helped drive online advertising sales 38% higher. Online gaming revenues were also strong, helping Tencent boost sales of smartphone games distributed over WeChat.
What's interesting: The looming Alibaba IPO must be on the mind of Tencent boss Pony Ma, as the two companies vie for dominance in China's fast-growing internet industry. While Alibaba's e-commerce supremacy has set the stage for a record-setting stock offering, Tencent's latest results show that when it comes to social media platforms and gaming, it still sits comfortably at the top of China's leaderboard.