This post has been updated. 
Darden Restaurants is selling Red Lobster and some of its real estate assets for $2.1 billion. The company, which also owns the Olive Garden, has been under pressure from shareholders about its underperforming businesses.
With its "endless shrimp" specials, Red Lobster has been disproportionately hit by surging shrimp prices caused by an incurable bacterial infection wiping out Southeast Asian stocks of the crustaceans. Darden had planned to spin the seafood restaurant chain off through an IPO. Now it has found a buyer.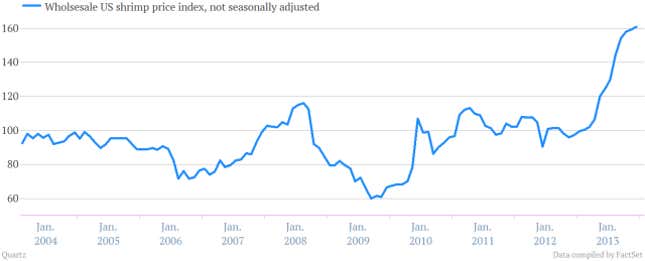 Shrimp inflation has been a big problem for Red Lobster, and for Darden: Seafood is estimated to account for around a quarter of the company's cost base. Credit Suisse estimated earlier this month that shrimp inflation could cost the group $30 million this year. Darden has previously said it does not expect shrimp prices to come down until the second half of this this year.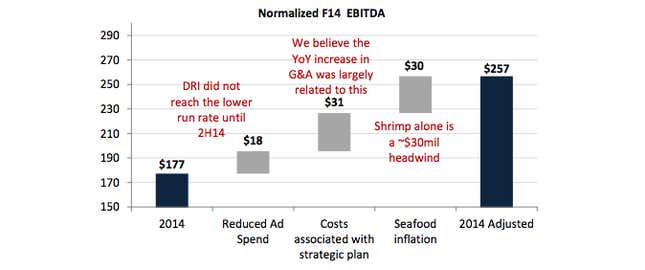 That will now be the problem of Golden Gate Capital, the private equity group that has bought Red Lobster, and which owns other chains such as California Pizza Kitchen. The buyout firm has already struck a separate deal to sell 500 Red Lobster locations and lease them back.
Darden, which is holding on to its other chains, including the Olive Garden and Longhorn Steakhouse, said in a filing that it will use about $1 billion of the proceeds from the sale to pay down debt. The rest will be used to buy back stock.
Yet if the intention of the sale was to placate disgruntled investors, it hasn't worked yet. Shares in the company sunk by about 3.5% in early trading this morning.
Shrimp inflation evidently wasn't Darden's only problem. The chain is also facing a broader retreat by Americans from "casual dining chains" like Red Lobster and the Olive Garden, and into fast casual outlets like Chipotle and Panera.
Update (May 16): Shareholders are pretty upset about this deal. Here's an emailed statement from James Mitarotonda, the chaiman of Barington Capital, which built a 2% stake in the company earlier this year. "It is unconscionable that the Darden Board would enter into an agreement to sell the Red Lobster business for what amounts to a 'fire sale' price after shareholders clearly indicated that they did not want the Company to enter into any transaction unless it was subject to their approval."