The US government has indicted five Chinese military officials for hacking Western companies and stealing their trade secrets—"the fruits of our labor," in the words of assistant US attorney John Carlin. The lawsuit is unprecedented (pdf)—the first ever brought against individual members of a government for economic espionage via hacking. And, legally speaking, it's pretty pointless.
US law requires criminal defendants to be present to actually have a trial. And there's no way the Chinese government will let five of its soldiers see the inside of the Western District of Pennsylvania courtroom, where the indictment was unsealed. So what's the Justice Department playing at?
Duncan Hollis, professor and associate dean at Temple University's Beasley School of Law, says the move highlights the question of whether some types of cyberspying are worse than others—a touchy debate for Washington in the wake of Edward Snowden's revelations about rampant US government spying.
"The US wants the Chinese to limit how much cyberspying they're doing but it's a hard line to draw because, post-Snowden, the US can't say 'no spying,'" Hollis tells Quartz. "Now, the US seems to suggest that it only uses that data for national security purposes, whereas the Chinese have been using it in a way that's been having pretty significant economic consequences."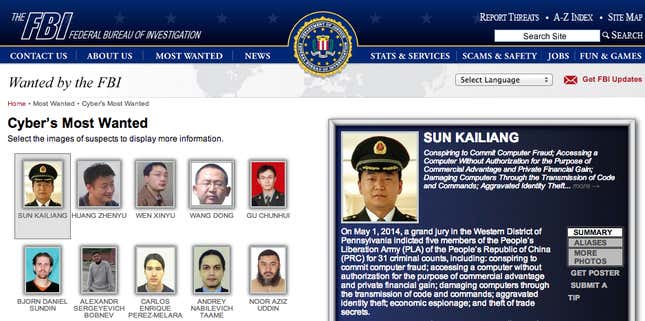 Those alleged consequences include a litany of offenses ranging from "economic espionage" and to "aggravated identity theft." Take, for example, the accusations against Wen Xinyu, a.k.a. "WinXYHappy," who stands accused of stealing a solar company's internal financial data and pilfering of network credentials for nearly every employee at Allegheny Technologies Inc., a US company involved in a 2012 trade dispute with a Chinese company.
The suit's "victims"—which, in addition to ATI, include Westinghouse Electric, the US unit of SolarWorld AG, United States Steel Corp, Alcoa Inc. and the United Steel, Paper and Forestry, Rubber, Manufacturing, Energy, Allied Industrial Services Workers International Union—were all been working with or competing against Chinese state-owned companies or government-favored industries. 
Though these alleged attacks may, as US government officials implied, have cost American jobs, the push to define the relative degrees of cyberspying nefariousness might not be all that persuasive abroad, says Adam Segal, a senior fellow at Council on Foreign Relations.
"[US Attorney General Eric] Holder tried in his introductory statements to say 'we're going after economic espionage,' and the US continually says we don't engage in that," Segal tells Quartz. "But Huawei and Petrobras [foreign companies the US government's been caught spying on] are clearly economic targets. So I don't see [this latest effort] gaining traction internationally."