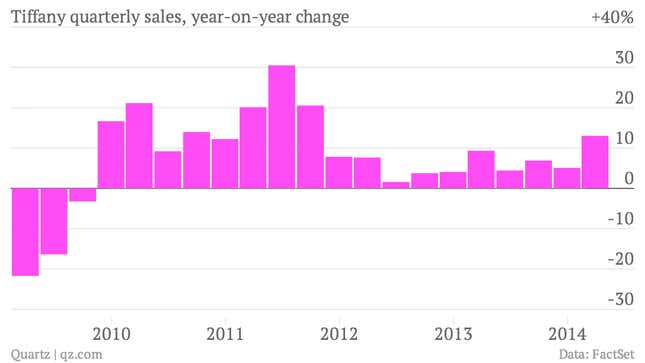 The numbers: Strong. Tiffany's year-over-year sales rose 13% to just over $1 billion. Profits rose a whopping 50% year-over year.
The takeaway: The report shows a vast improvement over last quarter, when the company had to post a $100 million loss after a legal settlement with Swatch cost it nearly half a billion dollars. Sales in Japan continued to grow, with total sales surging 20%, thanks to a bump from consumers shopping in anticipation of Japan's April tax hike on consumer goods.
What's interesting: Last year, Tiffany's performance showed that customers were most excited to spend on "statement" jewelry—those highly-priced, gemstone-studded pieces heavy on the bling. After considerable investment in the category, the jeweler's yellow diamond collection contributed significantly to a 50% surge in third quarter profits, and the company reported a higher demand for colored diamonds overall in 2013. Now, the challenge for Francesca Amfitheatrof, Tiffany's new design director as of September, will be to bring similar excitement to cheaper offerings, which were the slowest to grow in 2013. CEO Michael Kowalski reported this morning that the revamped and modestly priced Atlas collection, which features simple gold and silver designs and not that many diamonds, was the fastest-growing of its new and expanded collections. If Tiffany's new Atlas ad campaign starring white-hot model Daria Werbowy is any indication, the jeweler is well poised to continue growing the fashion jewelry category.