Golf, as a sport and a business, is struggling in the US.
TV ratings are down. Participation rates are plummeting, and millennials (the 18-34 age cohort) just aren't embracing the sport. It's all taking a toll on manufacturers of golf products and the retailers that sell them. An inventory glut has created a price war that is pressuring profits.
This month, Dick's Sporting Goods fired more than 500 golf professionals, having warned earlier this year about "structural issues" in golf participation."The more concerning and unpredictable issue is the golf business," CEO Ed Stack said in May. "We anticipated softness, but instead, we saw a significant decline." German sportswear giant Adidas, which owns the Taylor Made brand, also recently slashed its full year earnings forecast, in part due to "continued weakness" in its golf division.
There are myriad explanations for the waning popularity of the sport in the US. One is unusually harsh winters throughout the country, even in warmer locations like Florida. Another is a period of prolonged economic weakness. The Wall Street Journal (paywall) points out that the sport "doesn't reflect the kind of values milennials like—diversity, inclusion" while  Businessweek argues golf is just is too time-consuming and difficult.
Another reason is the end of the Tiger Woods era. There are well documented links between Woods's presence and higher TV audiences for the sport's biggest tournaments. Ratings for the US Open, which did not feature Woods (and to be fair, coincided with the start of the FIFA World Cup) were abysmal. It was a similar story at the US Masters.
Woods is sponsored by Nike, but since his career spectacularly imploded in late 2009, shares of Callaway, the biggest company on the stock market focused exclusively on golf, have been in a period of sustained under-performance (obviously there was the small matter of a global recession that year as well).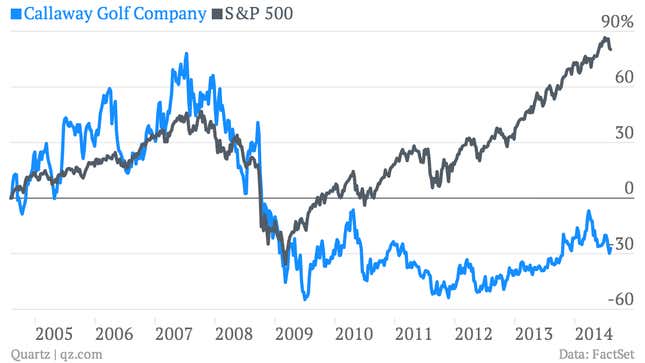 Hopes are now pinned on Northern Irishman Rory McIlroy to be its next bona fide superstar. This weekend, the charismatic 25-year-old will attempt to win his second straight "Major", and his  second US PGA Championship title, at the Valhalla Golf Club in Louisville, Kentucky. Woods didn't even make the cut."[G]olf was looking for someone to put their hand up and sort of become one of the dominant players in the game," McIlroy recently said. "I felt like I had the ability to do that."
The golf world is hoping he's right.
Correction (August 9): An earlier version of this article erroneously referred to McIlroy as attempting to win his third, instead of second, straight Major tournament.