A coup d'état has been declared by Thai army chief Prayuth Chan-ocha. Soldiers shut down all of the country's television broadcasts and detained the leaders of Thailand's fractious political factions, who were meeting in a second day of reconciliation talks at the Army Club in Bangkok.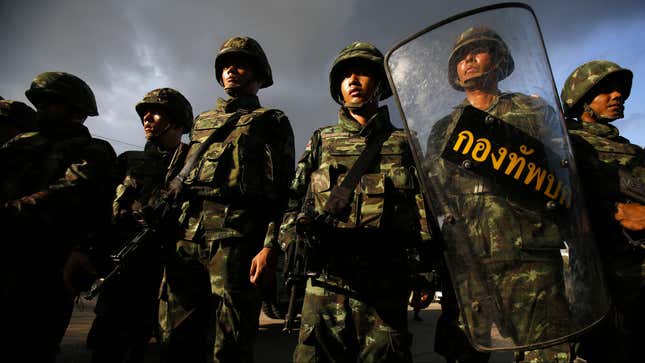 Prayuth had insisted earlier in the week that the army's declaration of martial law was not a coup d'état. Now there is no doubt—this is the 12th coup that the Thai military has mounted since the country ended its absolute monarchy in 1932.
"The military has to return peace and order to the country as soon as possible and to reform [the] political and social structure to ensure fairness for every side," Prayuth said in a televised statement. "I ask the people to remain calm and carry on with their business as usual."
Martial law didn't do much to disrupt daily life in Thailand when it was declared earlier this week, with pedestrians posing happily for smartphone selfies with soldiers manning the barricades at strategic locations around the city. Now, however, there is a real prospect of clashes between the military and demonstrators, especially the red shirts—the populist faction of Thais from the country's rural northern region, who are aligned with exiled prime minister Thaksin Shinawatra.
Leaders of the United Front of Democracy Against Dictatorship, as the red shirts are officially known, urged their followers to remain calm after the imposition of martial law. But that reserve is long gone now:
Update, 945 am ET: As night fell in Bangkok, the military reached into its coup playbook for measures that it had used during its last government overthrow in 2006, when Thaksin was ousted. International news channels like CNN and the BBC (along with, for some reason, HBO and the Disney Channel) were taken off air, replaced with a banner for the "National Peace and Order Maintaining Council."
A lively discussion of the latest events is still taking place on Twitter and Facebook, but users are speculating that social media networks—and perhaps the entire internet—might soon be blocked.
The military broke up protest sites of both the red shirts and their opponents, the anti-government People's Democratic Reform Committee.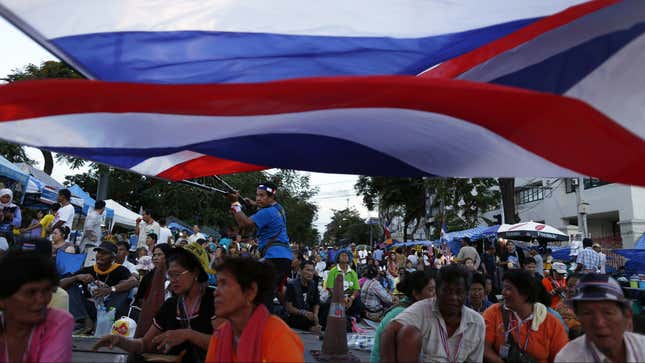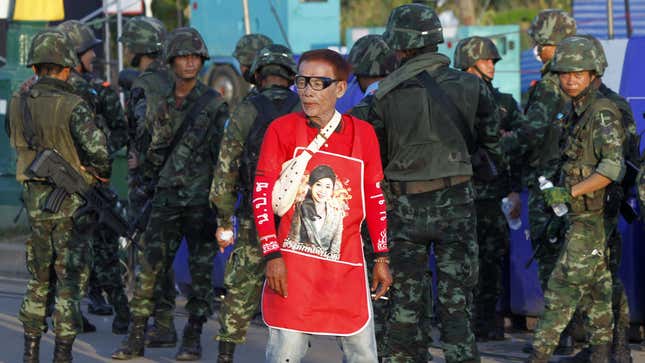 A nationwide curfew was also declared between 10 pm and 5 am, setting off a scramble as people rushed to stock up on food and get home before public transportation stopped operating.
This story is developing. Please check back for updates and follow @qz.