The race to the bottom is on.
India's biggest players in e-commerce have seen a flurry of activity this week in their efforts to play defense to Amazon's overtures on their home turf. Amazon has been scaling up its India operations, such as next-day delivery and a slew of TV ads.
On May 20, New Delhi-based e-tailer SnapDeal announced it has raised $100 million; eBay led a round of funding just three months ago. Then today came a deal between Flipkart, India's largest internet retailer, and Myntra, a leading fashion and accessories e-tailer. The two companies declined to reveal details, only saying that it's a 100% acquisition of the latter and that the two will operate independently.
And yet nobody in this space is really making any money yet, which—as anyone who has read Amazon's playbook know—can be a losing proposition against the giant. Indeed, the Indian market is now characterised by loss-making rivals racing to the bottom (in terms of margins) hoping the gigantic potential makes it worth their while.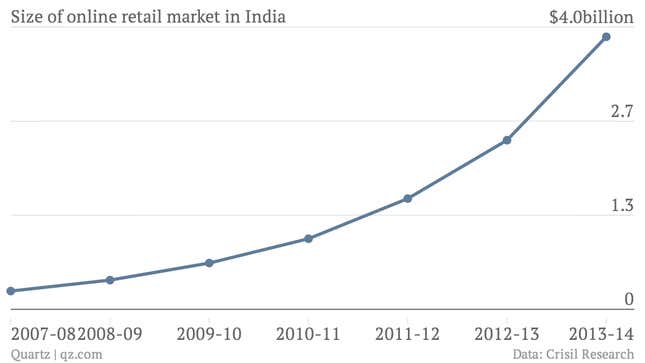 However, today's acquisition will strengthen Flipkart's position in fashion and lifestyle, a space that typically affords higher margins and hasn't been a traditional strength for the Bangalore-based company; Flipkart was founded in 2007 by two former Amazon employees and now sells more than $1 billion worth of merchandise each year.
Reuters quoted unnamed sources who pegged the deal at $300 million.
"Most of the previous M&A deals have been distress sales in Indian e-commerce. Myntra didn't need to do this and could take on funds from outside. We chose to do this to create a larger company," Sachin Bansal, co-founder and CEO of Flipkart, says. The companies will both continue to sell fashion and lifestyle products online. "From Flipkart's point of view, this makes sense because fashion is a fragmented space and customers want to buy on multiple platforms," he added. "We feel that in a few months the fashion category could become the largest category on Flipkart," he said.
Retail advisory firm Technopak forecasts that the e-tailing market will grow to at least $19 billion by 2019. By then, fashion and lifestyle will have a 30% share of the market and will be a category as big as $5.7 billion.
The combined entity expects to jointly control 50 percent of all online fashion retail in India. For the year ended March 2013, Flipkart posted a loss of Rs 281.7 crore ($48.6 million), while Myntra's losses for the same period was Rs 134.7 crore ($23.2 million).
India's online retailers have been swallowing each other up. Fashion retailer Zovi bought Inkfruit in early 2013, Flipkart bought electronics retailer Letsbuy, Fashionandyou.com bought Urban Touch in 2012, Myntra bought lifestyle apparel brand Sher Singh and Yebhi.com bought jewelry portal Stylishyou.  
Amazon entered the Indian market in June of last year and has invested actively with expansion into more than 20 categories including fashion and lifestyle products. But it's not just the behemoth's threat propelling consolidation. Says Raja Lahiri, partner for transaction advisory services at Grant Thornton: "A move like this by larger players like Flipkart is driven by the urge to build scale as well as acquire niche segments of the market and not necessarily triggered by the presence of competitors like Amazon."