Last week, the casinos of Macau, the world's largest center for gambling in terms of revenues, got some bad news: smoking will be banned at all casino tables as of October, a move to protect workers' health.
That's a problem for the island's massive casino industry—which generated $45 billion last year, several times that of Las Vegas. Macau depends overwhelmingly on gamblers from the world's largest nation of smokers—China. The mainland is home to about a third of the world's smokers. About a quarter of the Chinese population smokes, compared to the global average of a little under 20%.
Requiring gamblers to move to designated areas for smoke breaks will mean fewer or slower games, and ultimately less revenue. "We think a full ban will have negative impact on [gross gaming revenue] as the speed of the game could slow down," Morgan Stanley wrote in a note last week. Anti-smoking advocates in the US have said that casino bosses there oppose smoking bans because they also worry that smoke breaks will give gamblers a moment to consider walking away from a losing streak or leaving with their winnings.
When a partial ban was put in place in Macau last year, there was little effect because operators simply moved the more productive tables to the smoking areas. But banning smoking at all "mass tables," those in the common areas of a casino, will affect about half and in some cases over 70% of major casino operators' tables in Macau. (Smoking will still be allowed in VIP rooms.)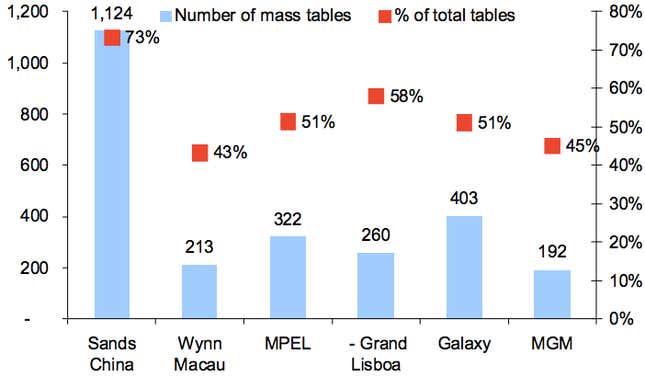 Casinos with limited space for building special smoking rooms could be hit the hardest. According to Morgan Stanley, when full smoking bans were put in place in casinos in parts of the US and Australia, revenues fell between 4% and 20% over the following year.