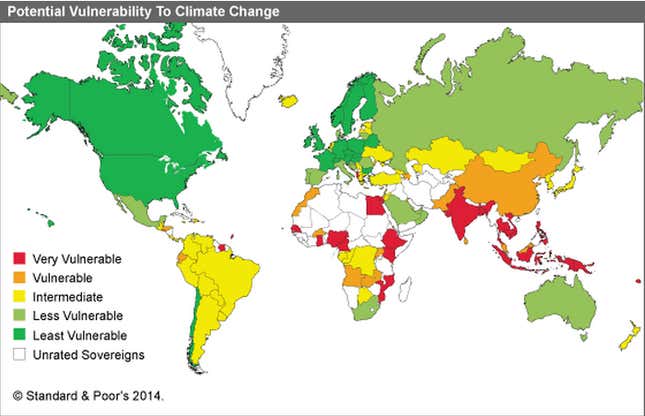 Credit rating agencies have been accused of being asleep at the wheel during the US subprime mortgage crisis, which ended up morphing into a full-blown international financial crisis and triggering a global recession. But there's a new risk to the world economy and this time credit ratings agencies are on it.
Over the past week or so, one of the most prominent credit agencies, Standard & Poor's, has, in a series of reports, attempted to quantify the financial impact of climate change. The company looked at the impact of changing weather patterns on various industries, including utilities and insurance.
Among other things, the ratings agency ranked nations based on the percentage of their population living below an altitude of 5 meters (about 16 feet), their share of agriculture in total economic output, and their ranking in the GAIN Vulnerability Index, a measure developed by the University of Notre Dame that measures countries' vulnerability and readiness to deal with climate change.
Cambodia is the country at most risk of a credit-rating downgrade, according to S&P, and Luxembourg the least. India, the world's third largest economy (by some measures) is "very vulnerable" to action, the ratings agency said, while China, the world's largest economy (if you accept these calculations) is also "vulnerable." Among developed economies, New Zealand is the most vulnerable to action, according to the report. The United States is the 10th least vulnerable country.
Separately, based on data from German insurance behemoth Munich Re, the agency said that weather-event-related losses have been increasing since the 1980s, and the volatility of those losses for insurers have increased over the past 10 years.