The 400 miles of asphalt that connect the Spanish and Portuguese capitals may well be the most congested motorways on the planet this weekend.
Lisbon is hosting European club soccer's centerpiece event, the UEFA Champions league final. For just the fifth time in the history of the tournament, it will involve two teams from the same country; for the first time ever, two clubs from the same city, Madrid. And, an estimated two-thirds of the 70,000 Spaniards traveling to (and presumably from) the event, reports the Guardian, will do so by road.
This weekend's contest (kick-off is 2:45pm ET) between Real Madrid and Atlético Madrid is shaping up to be a fascinating one, both on the pitch and off it. "Madrid is about power and money, while Atlético is for more humble and marginal people" Fernando Castán, a sports journalist told the New York Times this week.
Real Madrid is footballing royalty. For nine straight years,  it has been ranked by Deloitte as the richest club in the world (thanks in part to vast real estate holdings in the Spanish capital). The club had a formal policy in the early 2000s to buy the world's best players ("galacticos") for outrageous sums, and just last year spent a record €100 million on Welsh winger Gareth Bale. Regarded as the team of the Spanish establishment, Real has also won European soccer's top prize more times than anyone else.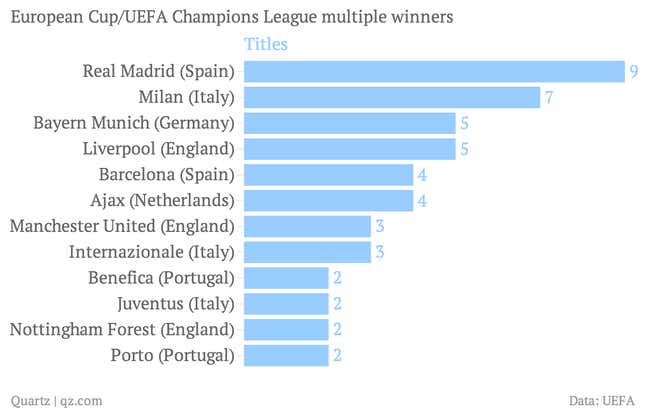 Yet currently, its less-distinguished crosstown rivals are in better form. Last week, in dramatic fashion, Atlético was crowned champion of Spain for the first time in 18 years. Despite coming agonizingly close 40 years ago, Atlético, considered the club of Madrid's working class, has never won Europe's top prize. And if it is to prevail on Saturday, it might have to do so without its star forward, Diego Costa, who is battling injury.
Saturday's scenario is a bit like two teams from the same city facing off in football's Super Bowl, something that has never happened (although two teams from the same state have played against each other in the NFL's final match on two occasions, in 1991 and in 1995.)
The rivalry between Real and Atlético is nowhere near as intense (the New York Times even called it "mostly friendly") as the one that exists between Real and Catalan giant Barcelona, which are by far Spain's two most successful teams. There is a huge political dimension to that rivalry, stretching back to the fascist Franco regime that lasted for nearly four decades and ended in 1975. According to The Independent, left-leaning Spaniards are still twice as likely to support Barcelona, supporters of the right-wing Partido Popular are three times more like support Real Madrid.
Atlético and Real might not hate each other—but Saturday's game has still managed to divide Madrid. And no doubt, clog up the roads.