The Chinese government has loudly vowed many times in the last year to improve air quality, going to far as to declare a "war on pollution." It's hard to tell if this is just lip service, though—especially when China's skies still look like this, several months after coal-burning season ended: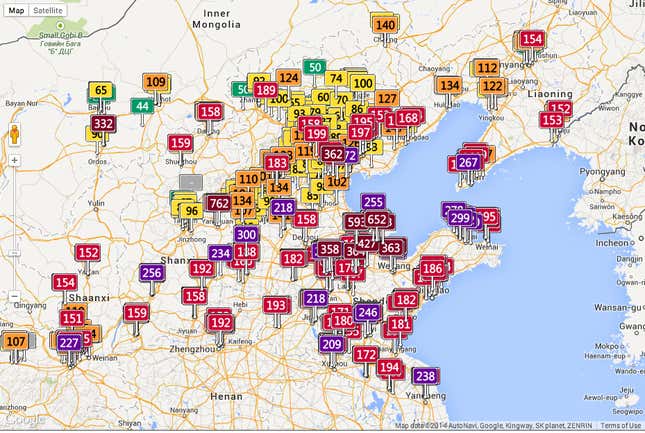 However, recent analysis of economic data by Claire Huang, an economist at Société Générale, found that "Chinese policymakers are getting serious about air pollution." So serious, in fact, that those efforts are already hurting GDP performance—something the government has so far shown to be its biggest priority. Huang says GDP will slow 0.35 percentage points cumulatively from 2014 to 2017 because of air pollution mitigation efforts, and she expects the economy to take the biggest blow this year.
The biggest indicator comes from China's industrial output—the output of China's manufacturing, mining and materials sectors—where growth has slowed significantly since September, when China's cabinet rolled out its air pollution action plan. Last August that indicator hit a 16-month high of 10.4% growth versus the same month in 2012, but industrial production expanded only 8.7% last month. That's the slowest since March 2009, just after the financial crisis hit: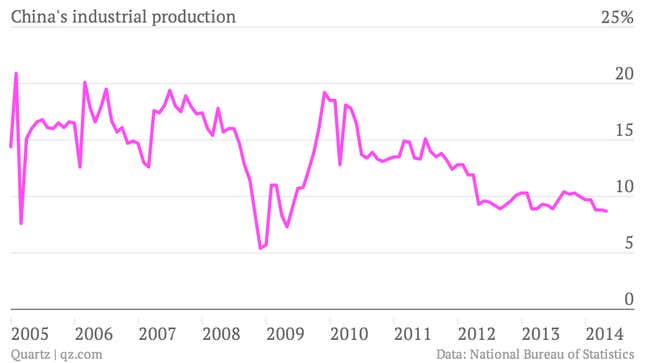 That slowing of output comes disproportionately from high-polluting northern provinces, which accounted for three-quarters of the 1.7-percentage-point slowdown in national industrial production since September. "Our comparison of all regional data shows that the more polluted the region, the greater the slowdown," writes Huang.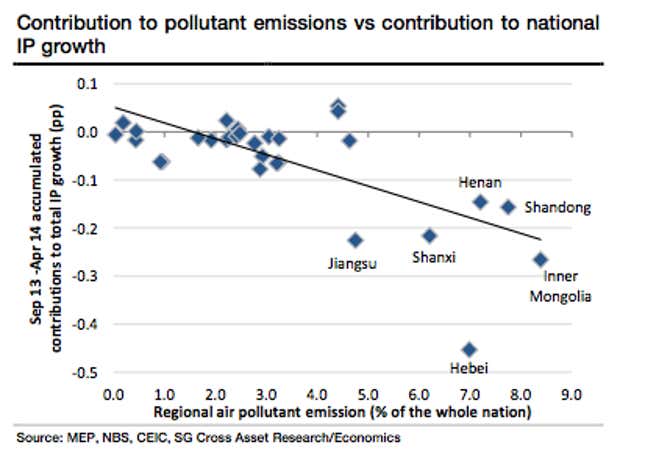 Take Hebei, for example. A Senegal-sized industrial hub that flanks Beijing, the province burns up to nine-tenths of northern China's coal emissions, says Greenpeace. In 2013, it was the sixth-biggest provincial contributor to China's GDP.
Hebei's industrial output grew at a feeble pace of 3.5% in Q1 2014. That's the sharpest drop in growth rate since 2000, just after the government closed down inefficient state-owned companies, notes Huang.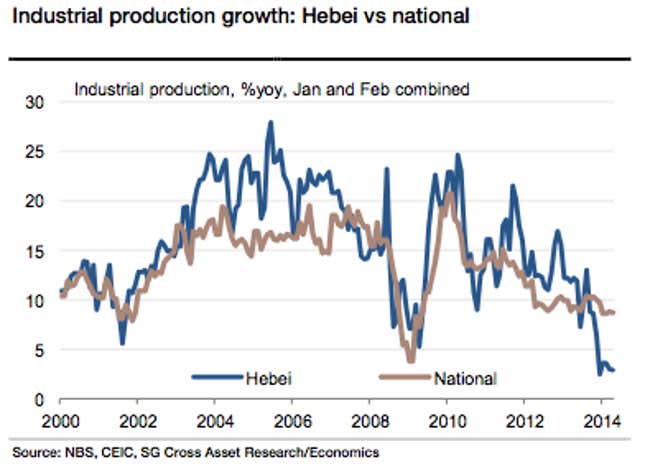 What's driving this drop? SocGen says it's the government response to the severe air pollution problem, which risks fomenting discontent among China's urban public. Among other measures, the plan of action announced last September prioritized the closure of high-polluting factories—including steel, coal and cement, which also happen to be producing way more than the economy demands.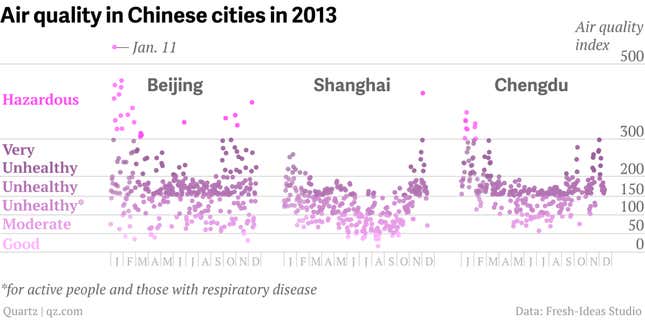 This isn't the first time the government has announced plans to "consolidate" the aforementioned sectors. But they've been largely unsuccessful in the past.
Recently, however, SocGen notes that local governments have been closing factories. Huang attributes this to the central government's announcement that provincial officials will no longer be evaluated on the basis of their provinces' GDP growth alone. On top of that, a revised Environmental Protection Law, which goes into effect in January of 2015, levies tough new penalties on polluting factories and holds local officials responsible.
As a result, SocGen expects a 0.13-percentage-point drop in GDP growth in 2014 alone, with another 0.22 percentage points to be shaved off GDP between 2015 to 2017.
Slower growth is a good thing—and not just for Chinese lungs. It means that the government is finally willing to close traditionally state-supported factories that aren't producing value—even at the expense of economic growth. Zapping those "zombie" factories now means that they can't eat up capital that could create real value elsewhere in China's economy.