Starbucks has an absolutely astonishing presence in the United States: an analysis by Quartz this week found that on a trip from Boston to Philadelphia, for example, it's possible to never be more than 10 miles from one of its stores.
The Seattle-based chain also has a large and growing presence in international markets: Seoul has more Starbucks locations than New York City does, and Canada has more stores on a per capita basis than anywhere else in the world.
There is, however, a wealthy international market where the coffee chain has struggled: Australia. That might seem surprising, given it is one of the world's wealthiest countries and is also completely obsessed with coffee.
Starbucks opened its first Australian store in 2000, and then expanded rapidly in the country. But by 2008, after racking up a reported $143 million in losses on its 87 stores, it had decided to shutter two-thirds of those stores. Overnight, it sold the remaining 24 of them to a private retail company, The Withers Group, which owns hundreds of 7-Eleven convenience stores in the country.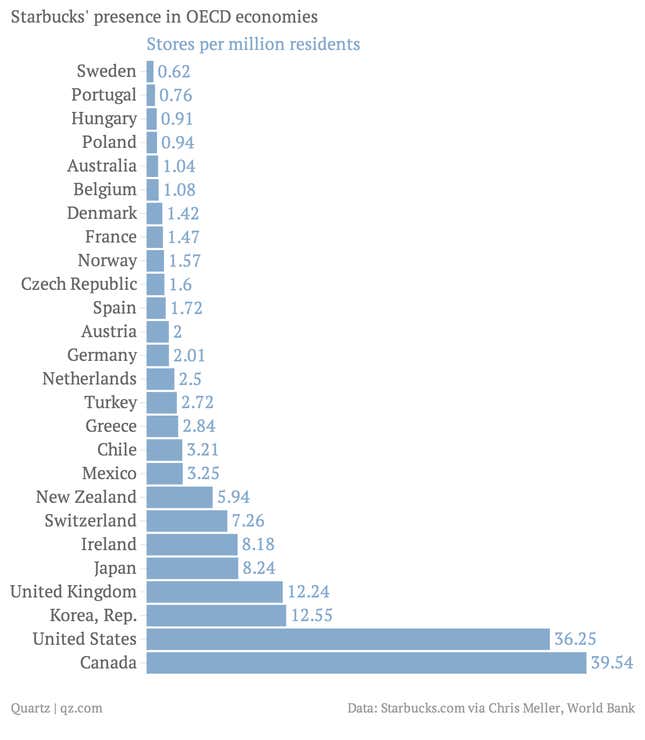 At the moment, Starbucks has a little more than one store per million residents in Australia, toward the bottom end for OECD economies where the chain is present, and far fewer than the number of stores it has, on a per capita basis,  in comparable markets such as Canada, New Zealand, the UK and the US.
The new owners of Starbucks in Australia are talking a big game, telling the Sydney Morning Herald that they plan to invest in the brand, improve the in-store experience and open new locations as part of a push to make it "the most successful coffee chain in Australia."
But Starbucks' struggles in the country are best explained by the fact that Australia—like France, where Starbucks has also made only modest inroads, and Italy, where the chain has no stores—already has a relatively sophisticated coffee culture. Starbucks was simply unable to impose itself upon that culture.
Coffee in Australia is dominated by small, independent, European-style cafes. According to IBIS World, there are more than 6,600 independent cafes and coffee shops in Australia, generating about $4 billion in revenue a year, mainly from coffee sales. It is also quite literally a matter of taste. Coffee in Australia means espresso, and not the watery, brewed variety so common in the US. Ask any Australian expat (on the east coast at least) about the coffee in the US, and we will tell you that it is terrible. Fortunately for us, there are signs that this is beginning to change.
The most typical Australian coffee order might be the "flat white," which has been described as "a single or double shot topped with milk that's been steamed into velvety 'wet' foam, smaller and less milky than a latte, served in a cappuccino cup, but without the froth." Ironically, Starbucks is now selling flat whites in the UK.