Steel is the building block of the urban world, making everything from cars to high-rises. It's also really dirty: Steel production contributes about 7% of global carbon dioxide (CO2) emissions, largely because seven-tenths of its manufacture is fueled by burning huge piles of coal.
And even as global industrial production around the world ebbed in 2013, the planet's steel makers churned out 1.6 billion tonnes (1.8 billion tons) of crude steel last year, according to a new World Steel Association report (pdf). That's an increase of more than 3% compared with 2012, a fairly big jump compared with 2012's increase of just 1.4% vs. 2011.
On an infrastructure and housing bender throughout 2013, China, unsurprisingly, used around half of the world's steel output. Runner-up was the US, which used a measly 6.4%. Oddly enough, things look much, much different on a per capita basis. Consuming 1,057 kilograms (2,330 pounds) of finished steel per capita, South Korea is gobbling up steel far faster than any other country. China, by comparison, uses just half as much per capita.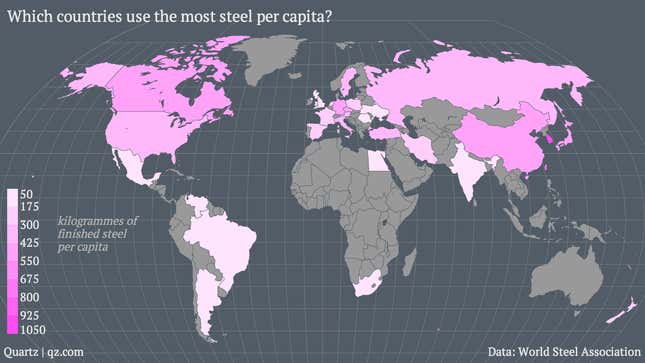 What's behind South Korea's steel binge? For one thing, big automotive exporters, such as South Korea, Germany and Japan, tend to be big steel consumers. Less obviously, the Czech Republic's steel consumption is in part an extension of South Korea's: Along with Volkswagen's Skoda, Hyundai of South Korea is cranking out cars there. (In addition to auto manufacturing, shipbuilding is another big source of South Korean steel demand.)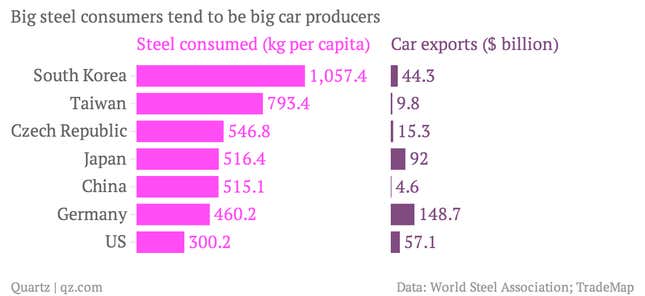 The EU and countries like the US and Japan have made strides in cleaning up their steel industries. South Korea, however, has been less ambitious. In fact, its overall carbon dioxide (CO2) emissions have jumped in the last decade (note: not just from steel production):

China's CO2 emissions have also increased, and steel production is a big part of that. Automotive manufacture accounts for around 15% of global steel demand; roughly half comes from construction of both housing and infrastructure. China's housing boom of 2013 and the ongoing buildout of the government's "urbanization" plans explain why China consumed 700 million tonnes of steel last year, up 6% from the previous year.
Since many of China's steel companies are owned by the state, they're subsidized—which means the steel they make is unusually cheap. Many of the firms can use their connections to dodge environmental laws.
Those twisted incentives mean China produces way more steel than it can use (though China's a net importer of steel, it's high-end steel that it's importing; the rest it exports). Even as the central government called for the industry to slim down, China added at least 58 new steel furnaces in 2013 (pdf, p.33), adding 80 million tonnes of additional annual capacity, reports Ernst & Young.
That will continue to eat up the margins of all the other steel makers around the planet, particularly those that are paying to clean up production. But automakers potentially benefit from cheap steel. Last year, most of South Korea's imported steel was from Japan and the US, relatively cleaner steel producing countries. However, South Korea bought more than a third of its steel imports from China.