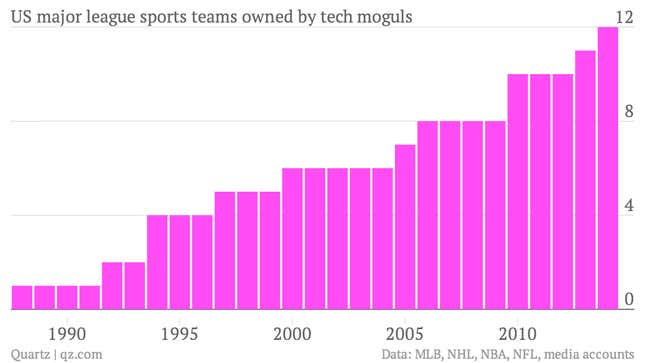 With Steve Ballmer's record-setting $2 billion purchase of the NBA's Los Angeles Clippers, there are now 12 technology moguls occupying the owner's suites in US baseball, basketball, football, and hockey (for a full list, see below).
Thanks in part to the tech sector's eye-popping stock market valuations, a record five major league franchises have been purchased by men who made their money in the tech sector—and the decade isn't even half-over. Only three tech titan team purchases were made in the post-dot com crash decade of the aughts, four teams were purchased in the original dot com boom days of the 1990s, and only one was purchased in 1980s. (One of the tech owners—software mogul John Moores, former owner of the San Diego Padres—sold his franchise in 2012).
The following list was compiled by examining the primary source of wealth for all major league sports team owners, with a big hand from Mental Floss's analysis of baseball, basketball, and football team ownership. (It doesn't include partial stakeholders like former Facebook CFO Gideon Yu, who owns 5% of the San Francisco 49ers.)
Paul Allen, Microsoft co-founder (Portland Trailblazers, 1988, and Seattle Seahawks, 1997)
Howard Lincoln, former Nintendo chairman (Seattle Mariners, 1992)
Peter Karmanos, Compuware founder (Carolina Hurricanes, 1994)
John Moores, Peregrine Systems chairman (San Diego Padres, 1994, sold team in 2012)
Mark Cuban, Broadcast.com co-founder (Dallas Mavericks, 2000)
Henry Samueli, Broadcom co-founder (Anaheim Ducks, 2005)
Charles Wang, Computer Associates co-founder (New York Islanders, 2006)
Joe Lacob, partner at tech VC firm Kleiner Perkins (Golden State Warriors, 2010)
Ted Leonsis, AOL senior executive (Washington Wizards, 2010)
Robert Pera, Ubiquiti Networks founder (Memphis Grizzlies, 2012)
Vivek Ranadivé, TIBCO Software founder (Sacramento Kings, 2013)
Steve Ballmer, former Microsoft CEO (Los Angeles Clippers, 2014, pending)
To be sure, the ranks of major league owners who got their fortunes from sectors like real estate, financial services, and energy still heavily outweigh the tech titans. How much further could the tech sector go? According to Mary Meeker, one of Joe Lacob's partners at Kleiner Perkins, tech company valuations still have plenty of room to grow, which means the disruption of the owner's suites could go quite a bit further indeed.