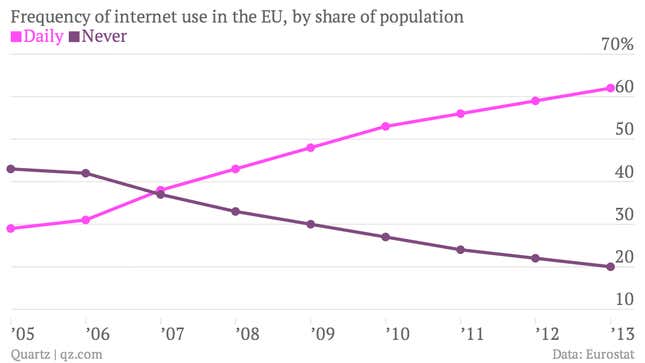 "Most Europeans now live digital lives and they are hungry for more," says European Commissioner Neelie Kroes. Indeed, 62% of people aged 16-74 in Europe use the internet every day, according to the EU's latest "digital scoreboard" recently unveiled by Kroes.
For those who spend their lives tethered to a variety of internet-enabled devices, it begs the question: What do the other 38% do all day? And what to make of the 20% of Europeans who—as strange as it sounds—have never used the internet?
As we noted when writing about internet refuseniks in the US, age, education, and income are all important factors in how much people use the internet. And like the US, the EU is keen to expand web access by promoting faster and more affordable broadband, 4G mobile access, better rural connections, and the like. The trends in the EU are moving in the right direction (see chart above), although the bloc still lags the US in getting people online—only 15% of Americans have never used the internet.
But the biggest barrier to internet ubiquity is out of the hands of government officials. Nearly half of European households without internet access say, simply, that it is "not needed."
And like most things on the continent, there is wide variation in internet use between countries. Only 4% of Danes and Swedes have never used the internet, while the always-offline life is the norm for 42% of Romanians.