The aftershocks from Apple's $3-billion purchase of Beats are still rattling the music industry. The company, which was founded by rap mogul Dr. Dre and music producer Jimmy Iovine, is perhaps best known for its headphones. But its music streaming business is what Apple wants, notes Quartz's tech editor Dan Frommer. Linking Beats' music service to iTunes' 800 million accounts clearly has the potential to shake up the streaming sector.
But Pandora Media, the biggest player in online music streaming, doesn't sound worried. In fact, in its first remarks since the acquisition was announced, Pandora seems relatively sanguine about the prospect of competing with an Apple-owned Beats.
At an investment conference hosted by brokerage Raymond James, Pandora CFO Mike Herring questioned Beats Music's subscriber base, describing reports that it has 250,000 subscribers as an "exaggeration," according to a FactSet transcript.(Pandora had around 76 million active users at last count).
Beats Music's low subscription level shows how tough it is to connect with music consumers, Herring said:
I think what Beats proved through its Super Bowl commercial and a year's worth of hype and concerts and the supporting cast of Dre and Jimmy and every celebrity they could get to tweet about it is—this is really hard business to do well. Apple learned that as well, coincidently, with the launch of iTunes Radio. Again, much hyped, much anticipated launch of this radio service last September. We did see a slight drop in users from that and since have recovered and continued to grow.
Recall that iTunes Radio was supposed to be a Pandora-killer, but it hasn't turned out that way. Is the Beats-Apple team-up more of a threat?
Pandora says it isn't. Why? Basically Pandora—a radio like service that makes most of its money from advertising—argues that it's in a completely different business. Beats offers a Spotify-like on-demand service, that allows users control over the music they want to hear. (Unlike with Beats or Spotify, Pandora listeners can't choose individual songs to play, or replay a song they just heard. Neither can they enjoy the service offline, the way Beats and Spotify paying users can.) Herring said:
The on-demand space…Google, Spotify, and Apple are competing directly head-to-head and then a bunch of smaller players, it's not a space we compete in at all. The connected radio, the lean-back experience, the free, ad-supported part of music listening, that's Pandora's domain. And we still have a dominant market share and by far the best product.
What, then, is Pandora's competition? FM and digital radio stations, which still dominate consumer listening, particularly in the car: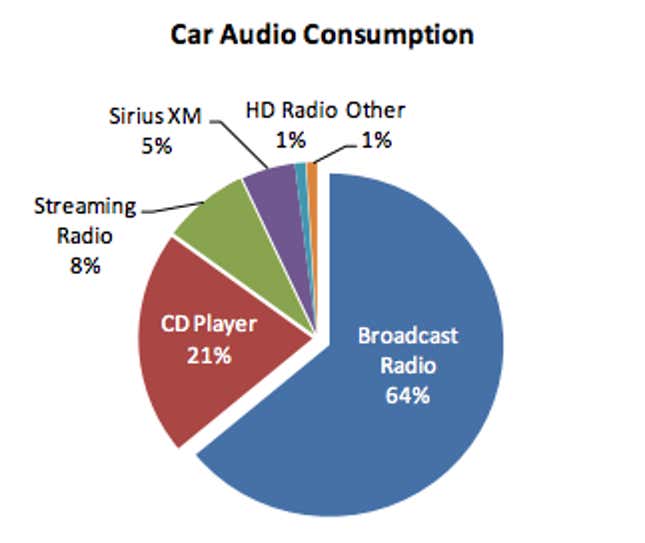 Source: Piper Jaffray
Of course, it makes sense for Pandora to downplay any competitive threats from the Beats deal. But even if Herring's argument is only half-right, it underscores the fact that the company with the most to lose from the Apple-Beats tie-up probably isn't Pandora—it's Spotify.