There were no surprises in Egypt's elections this week. Former general Abdel Fattah el-Sisi secured a sweeping victory after three days of lackluster turnout. His election was all but assured, given the lack of any real, credible opposition. But his real challenge lies ahead: fixing the decimated Egyptian economy.
To that end, Sisi faces a Herculean task. The charts below illustrate just how fragile the Egyptian economy has become in the wake of the 2011 uprising and the subsequent political turmoil in the country.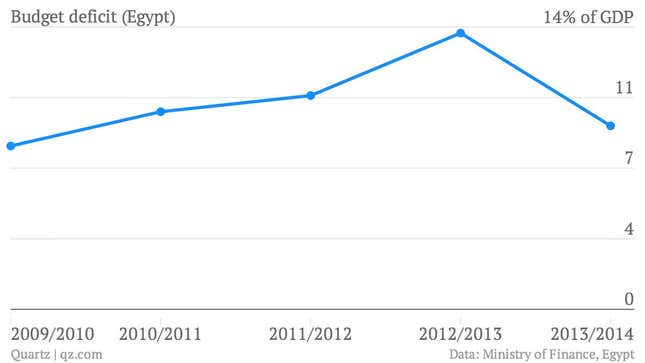 Government spending in subsidies has significantly cut into Egypt's budget in recent years, with petroleum subsidies getting the bulk of the blame. Egypt, with its population of 85 million, struggles with a deepening energy crisis. Subsidies have kept the lights on  (more or less) and cars fueled (despite long queues for gas) but have put a burden on the economy. The finance ministry vowed in a statement to cut petroleum subsidies by roughly 22% in the coming year but there are fears that raising energy prices could spark another wave of unrest and street protests. For Sisi, whose entry into power was marked with tepid enthusiasm during the election, this issue will be key in determining his support at home.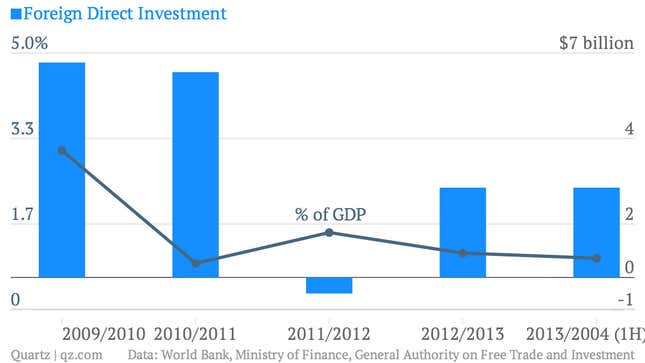 Foreign direct investment took a hit following the ouster of long-time president Hosni Mubarak, which in turn put pressure on foreign reserves in the country. FDI and tourism have long been the lifeblood of Egypt's foreign reserves. Under the old regime, Egypt was attracting net FDI of around $7 billion annually, according to central bank data. It's managed to eke out a quarter of that in the first half of this year. Tourism, likewise, has plummeted amidst growing safety concerns and political instability. As a result, foreign reserves plunged to their lowest level in a decade last year, covering barely three months of imports.
The UAE, Saudi Arabia and Kuwait stepped in with aid after the removal of president Mohammed Morsi from power last year. The three Gulf nations have provided combined financial aid of $12 billion to prop up the economy. That will help in the short-term. But Egyptians are wary of foreign aid from the Gulf, especially after Qatar was accused of using its money to manipulate Morsi's government. Egyptians are now seeking a solution from within.
Sisi's economic plan
Initial indications aren't promising. Sisi's "Map of the Future" economic plan, released days before the election, seems to mirror costly economic policies that were around during the Mubarak regime. The plan, calling for 48 new cities, eight airports as well as fish farms and renewable energy projects, would cost $140 billion. Sisi claims the plan will be funded by aid from Gulf countries, as well as support from Egyptians living abroad and FDI. But he gives no set plan on just how he will raise the money.
For Sisi, the election was the easy part. His win was assured. But he is taking over a country that has now overthrown two governments. To maintain public support, Egypt's struggling economy will have to take priority in his agenda. Otherwise, he may be laying the seeds for another revolution.