That's a visualization from Flightradar24 of air traffic above the United States right now. You can see the storm formerly known as Hurricane Sandy in the gaping hole along the East Coast. All three of New York's airports are closed right now, and most other airports in the Northeast are experiencing major delays. More than 7,000 flights in the United States were cancelled today.
But that's just one way of seeing the storm without actually seeing it. Google's Fernanda Viegas and Martin Wattenberg created a live-updating map of wind patterns in the US that exposes the "invisible, ancient source of energy" currently battering the East Cost.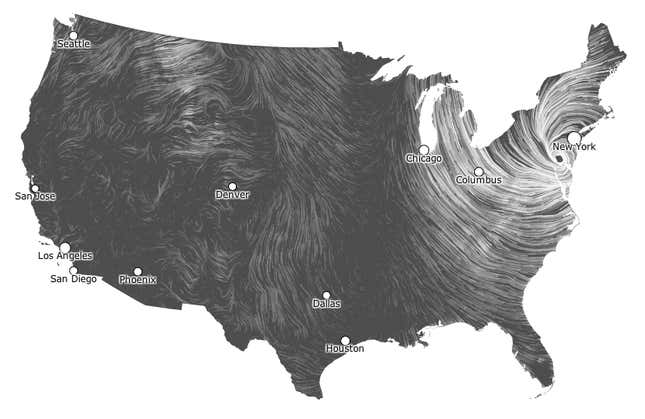 You could also look at the real-time map of global web usage maintained by Akamai, which helps serve an enormous portion of that traffic. Right now, Akamai is reporting 25% higher traffic than normal across the world with hot spots across the US, including the Northeast.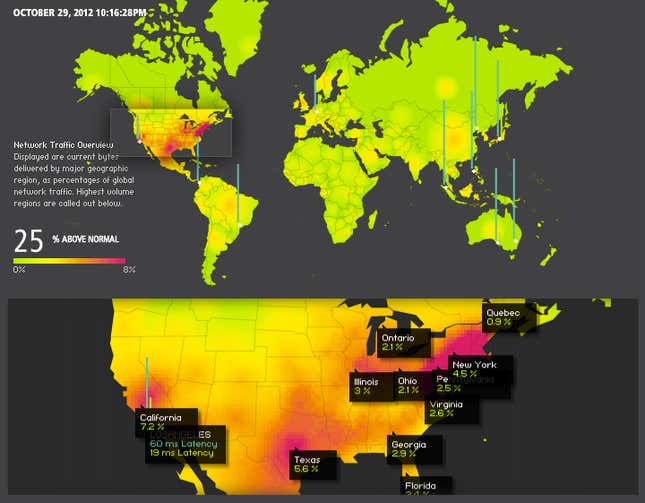 What are all those Americans doing on the internet now? Well, Netflix reported a 20% increase in usage today over a normal Monday, but mostly, people are talking about the storm. That's clear in this view from Trendsmap, which plots trending Twitter topics by location. San Francisco is still celebrating its World Series while New York City frets about major flooding.