It should have been a relatively quiet period after nonstop coverage of India's long-running election season. Instead, the country's media business is finding itself in the news.
Today came a memo from Shekhar Gupta, editor-in-chief of The Indian Express, that he will leave the newspaper after being at the helm for 19 years. The announcement followed last week's surprise announcement that Reliance Industries, India's largest industrial conglomerate, will take control of a diversified media network whose promoters it had funded two years ago. Meanwhile, Rajdeep Sardesai, a well-known television anchor whose television network has now become part of Reliance Industries, has left for a month-long break, promising colleagues that he will be back.
Everyone expected a shakeup among India's media establishment with the arrival of a new government. But it's coming faster than anyone expected—and hardly driven by that government, at this point. Notably, the government is considering easing curbs on foreign investment in India's media business.
In his letter to staff, which he himself described as "heartwarming" and "heartbreaking," Gupta did not say why he was leaving and declined to comment on the move when Quartz reached him. But two people familiar with his plans say he is headed to Living Media, a media conglomerate that publishes the India Today magazine, as vice chairman. Living Media chairman Aroon Purie declined comment.
A person familiar with developments in the Indian Express newsroom, requesting anonymity, said the company was unlikely to bring in an editor from the outside and will likely promote Raj Kamal Jha and Unni Rajen Shanker, editors next in line to Gupta, to the top jobs.
Gupta owns 9% equity stake in The Indian Express Ltd. It's unclear if an arrangement has been worked out for the promoters to buy back the shares from the departing editor. Anant Goenka, Express' director, declined comment.
The new Narendra Modi government is contemplating lifting investment restrictions in media. Currently, foreign investment in news is capped at 26% of equity ownership in a company, even though there are no restrictions on other media, such as trade publications or entertainment channels. And India's media policy has hardly kept pace with the digital media revolution.
India's media business is deemed an attractive investment at a macro level, but has been beset with revenue pressure in recent years with a slowing economy. Spending on advertising as a percentage of GDP is still low, which means by global standards, there is a lot of room for growth. In an April 2014 note, IIFL Institutional Securities said India's advertising to GDP ratio was 0.37%. Television and print continue to dominate advertising budgets, even though the digital segment is growing rapidly.
India has 12,511 daily newspapers, 161 million TV households, some 2,000 multiplexes and
214 million internet users, according to a report by consulting firm KPMG, which estimates the size of the industry more than 1 trillion rupees ($16.9 billion) in 2014.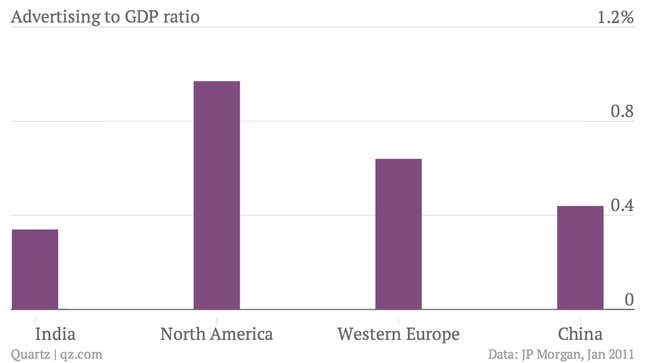 A significant churn in media began last week, when Reliance Industries, India's largest industrial conglomerate, took control of Network18 Group, a media owner with diverse interests, and its local licenses for global media brands such as CNBC, CNN and Forbes, apart from a joint venture with Viacom. The announcement came suddenly and the change of guard itself played out rather dramatically, with top executives resigning one after the other with little or no guidance to staff.
Most journalists working at the company found out after Reliance Industries informed the stock exchanges of its move. The energy company had funded Network18's promoters two years ago, so its interest in the media company was hardly a secret. But both parties said at the time that the company would continue to run independently under the promoters who also headed the company management. RIL's stated interest in Network18 was to gain better access to content for the high-speed internet network it is building.
When founder Raghav Bahl announced his departure the following day, he assured staff in a note that he was leaving the company "in terrific hands", that of the new owner, billionaire Mukesh Ambani, who Bahl had approached two years ago seeking help when the media company had trouble servicing its debt.
If the Modi government follows through with the plan to liberalize the media sector, the business could see an inflow of capital from global heavyweights who see opportunity in a large English-speaking population and underserved media market.
Already, the Aditya Birla Group, a $40 billion conglomerate, owns equity stake in Living Media. Reliance ADA Group, controlled by billionaire Anil Ambani, owns interests in TV Today and Bloomberg TV India.
Reliance Industries is expected to make announcements about the new management and statutory open offers in a day or two.